The Digital Cinema Distribution Coalition launched the industry's first-ever digital theatrical delivery service yesterday. The service delivers films and other content to theaters via satellite. The DCDC initiative was founded by theater chains AMC, Regal and Cinemark, with Warner Bros. and Universal. Partnering with the remaining major studios and exhibitors Southern Theatres and National Amusements, the service will reach about 17,000 screens in 1,200 theaters.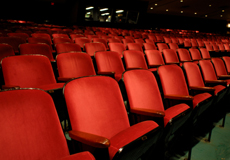 The coalition was formed in 2012. The Walt Disney Company, Sony Pictures, 20th Century Fox, Paramount Pictures and Lionsgate joined the venture as content providers this year.
"DCDC is a network of satellites capable of distributing feature, promotional, pre-show and live content via digital distribution technologies," reports Variety. "Its implementation will eliminate the need for a vast amount of the physical discs (ergo reducing costs) that are still shipped to digital-capable theaters, the standard practice since the conversion wave began in 2007."
According to The Hollywood Reporter, "DCDC, which will cover costs of installation and maintenance of the equipment located at individual theater sites, is a 'smart pipe' made up of electronics, software and hardware, including satellites, high-speed terrestrial links and hard drives as backup. Each exhibitor's locations will ultimately be provided with a DCDC owned-and-operated satellite dish, V-Sat backchannel equipment and a catch server for receiving content. A network operations center monitors all deliveries of content to ensure on-time delivery."
"Deluxe/EchoStar acts as the primary service provider for the DCDC platform, with installation and maintenance services from Hughes, a provider of digital television entertainment, and satellite and wireless systems and services," notes THR. "Technology provider Kencast powers the platform."
It was also announced during the kick-off that Randolph Blotky, who previously served as the principal consultant for DCDC, has been appointed CEO of the digital initiative.
"This is a truly historic moment," Blotky said. "DCDC represents the culmination of years of incredibly complex work, as well as the extraordinary contributions of so many visionary executives throughout the film and technology industries."
"They've succeeded in creating a groundbreaking venture that, simply put, turns the digital content distribution economic model on its head," he added.
Topics:
AMC
,
Amusements
,
Blotky
,
Cinema
,
Cinemark
,
Coalition
,
DCDC
,
Digital Cinema
,
Disney
,
Distribution
,
EchoStar
,
Exhibition
,
Film
,
FOX
,
Hughes
,
Kencast
,
Lionsgate
,
Live
,
Motion Picture
,
Movie
,
National
,
Paramount
,
Regal
,
Satellite
,
Screen
,
Sony
,
Southern
,
System
,
Theater
,
Theatrical
,
Universal
,
V-Sat
,
Variety
,
Warner
,
Wireless