After launching an experimental version of the OpenXR specification several months ago, the Khronos Group consortium debuted the official version of the standard aimed at enabling cross-platform AR and VR applications. The Group said it will continue to improve the spec and maintain "full backwards compatibility." Microsoft quickly embraced OpenXR, releasing it in its store before the official version was introduced. Any user of Windows Mixed Reality or HoloLens can install it to run any OpenXR-based app.
Engadget reports that the industry has embraced the new standard. Microsoft technical fellow Don Box said the company is "excited to now work with the OpenXR community to design the key extensions that will bring mixed reality to life, with full support by end of year for HoloLens 2 hand tracking, eye tracking, spatial mapping and spatial anchors."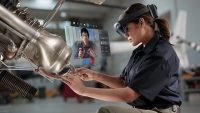 Facebook also indicated support, stating it would "add support for apps built on OpenXR 1.0 on the Rift and Quest platforms." HTC vice president Vinay Narayan added that his company is "committed to creating a viable ecosystem for the XR industry … [and] proud to support OpenXR." Tobii stated its promise to "unlock support for eye tracking through OpenXR extensions for eye gaze interaction and foveated rendering," and Valve declared its support for supporting OpenXR in SteamVR.
In its press release, the Khronos Group, "an open consortium of leading hardware and software companies creating advanced acceleration standards," described OpenXR 1.0 as "a unifying, royalty-free, open standard that provides high-performance, cross-platform access to virtual reality (VR) and augmented reality (AR) — collectively known as XR — platforms and devices." The spec can be found on the Khronos website and GitHub.
"Our work continues as we now finalize a comprehensive test suite, integrate key game engine support, and plan the next set of features to evolve a truly vibrant, cross-platform standard for XR platforms and devices," said OpenXR working group chair Brent Insko, who is lead XR architect at Intel.
During its initial unofficial release, the group gathered feedback and "improvements were made to the OpenXR input subsystem, game engine editor support, and loader." Among the implementations being released this week are "the 'Monado' OpenXR open source implementation from Collabora, the OpenXR runtime for Windows Mixed Reality headsets from Microsoft, an Oculus OpenXR implementation for Rift, as well as Oculus Quest support coming upon ratification of OpenXR 1.0."
Epic Games will also debut OpenXR 1.0 support in Unreal Engine, and, at SIGGRAPH 2019, "OpenXR members Epic Games, Microsoft and Varjo will demonstrate XR applications targeting distinct VR and AR platforms, all while using the same OpenXR API." Other companies supporting OpenXR are AMD, ARM and Unity Technologies.