Sky Glass, the streaming television platform that Comcast offers European customers as an alternative to dish-delivered Sky Q, has begun generating reviews. Billed as a turn-key smart TV solution, Sky Glass features a 4K display, HDR10, HLG and Dolby Vision, a built-in set-top-box and six-speaker Dolby Atmos. It also touts wake-word voice commands at the press of a button and multiscreen functionality via the Sky Stream Puck. However, as a walled garden Sky Glass is said to lack the versatility of Android TV or LG's webOS TV platforms.
"There may well be a multiverse out there, but you'd never know it using Sky Glass," writes TechRadar. "This is a locked down Sky environment, and it's kinda cozy." At launch, the Sky Glass program menu is said to include 21 content services, including BBC iPlayer, Disney+, ITV Hub, Netflix, Prime Video and YouTube. It also has Peloton and Fiit wellness apps, Spotify and casual games. But no local storage, instead featuring Cloud DVR.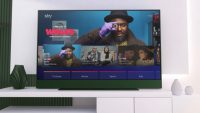 TechRadar characterizes this as "the single biggest adjustment when moving from Sky Q to Sky Glass," explaining: "You'll need to be prepared for some restricted availability when it comes to watching — and some content can't be re-streamed after broadcast at all."
Engadget calls Sky Glass a reaction against clutter. But expect sacrifices. "This QLED TV's AV performance is comparable to rival upper budget/mid-range models, rather than premium screens from the likes of Sony, LG, Panasonic and Samsung," TechRadar opines.
Officially launched in October, Sky Glass television comes in various size and price configurations that makes display part of the monthly subscription. "You don't need to think about having to buy your Sky Glass TV like a regular flatscreen, as you get it as part of your monthly sub, payment depending on the length of your contract and the Sky services you contract for."
Sky channel packages vary in price "depending on whether you want to graze on movies and sports," writes TechRadar, noting added cost for Ultra HDR, the Dolby Atmos pack and multiroom. "Once in, you can't swap it after a year for something new," TechRadar writes.
Another added feature of Sky Glass cited by Engadget is Glance, described as "a screensaver for the TV" that activates via motion sensor when it detects the viewer is in the room, and "shows advertisements for highlights on Sky and its partner's services, but could include artwork and your own custom images in [the] future."
Related:
Sky Glass is Not a Good Television, Wired UK, 9/11/21
Sky Glass Users Complain of Technical Issues, BBC News, 11/1/21
Sky Glass TV Review: Polished But Not Perfect, Tech Advisor, 11/10/21
Peacock Arrives in UK with Sky Q and Now, Pocket-lint, 11/15/21
Sky to Add Apple TV+ App to Sky Glass and Sky Q, The Apple Post, 11/15/21
Topics:
4K
,
Android TV
,
BBC iPlayer
,
Comcast
,
Disney Plus
,
Dolby Atmos
,
Dolby Vision
,
Fiit
,
HDR10
,
HLG
,
ITV Hub
,
LG
,
Motion Sensor
,
Multiverse
,
Netflix
,
Panasonic
,
Peloton
,
Prime Video
,
Samsung
,
Sky Glass
,
Sky Glass Glance
,
Sky Q
,
Smart TV
,
Sony
,
Spotify
,
Ultra HDR
,
webOS TV
,
Wellness Apps
,
YouTube