Comcast's European subscription service Sky has officially launched its anticipated smart TV set, Sky Glass, which allows customers to stream Sky and other content services over the Internet without a set-top box or satellite dish. Sky was acquired in 2018 by Philadelphia-based Comcast, which paid $39 billion for the European pay TV service. Sky Glass is currently available in 43-, 55- and 65-inch sizes in five colors — white, pink, green, blue and black. The televisions will be sold in the United Kingdom beginning October 18 with launches to other European markets starting next year.
Sky Glass is the culmination of "all the technology that Comcast and Sky have been working on for over a decade," Comcast CEO Brian Roberts said in an interview with Sky News. "All the wires are gone. All the boxes are gone. You can talk to it. It tells you what you want to see. It shows it to you right away. You can switch from music to exercise to television to news."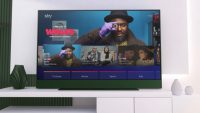 Roberts called the move "offensive" not defensive, though it follows the launch of Apple TV and the Amazon Fire dongle, CNBC notes.
Sky Glass can be activated by saying "Hello Sky." It has a 4K Ultra HD screen that displays more than one billion colors, the company says. It is compatible with third-party services including Netflix, Disney+, BBC iPlayer, Peloton and Spotify, among others. In 2022 the company will introduce a 4K smart camera for chat, gaming and workouts on Sky Glass.
The Sky Glass sets will be available for lease, starting at about $18 per month, or purchase, starting at roughly $884. Customers must pay an extra $35 per month for Sky content.
The "end of the TV set-top box is finally here," PP Foresight analyst Paolo Pescatore told CNBC, adding that the prospect of getting Sky without a satellite dish will make it "far stickier" with consumers.
Sky Glass has been designed to be syndicated and deployed by other telecom and subscription TV operators, according to Comcast, which has announced Australia's Foxtel Group subscription TV company as the first syndication partner.
Related:
Foxtel Confirmed as First Sky Glass Syndication Partner, Digital TV Europe, 10/11/21
Topics:
4K
,
Amazon Fire
,
Apple TV
,
BBC iPlayer
,
Brian Roberts
,
Camera
,
Comcast
,
Disney Plus
,
Europe
,
Foxtel
,
Gaming
,
Netflix
,
Paolo Pescatore
,
Pay TV
,
Peloton
,
PP Foresight
,
Sky
,
Sky Glass
,
Sky Group
,
Sky News
,
Smart TV
,
Spotify
,
STB
,
Streaming
,
Subscription
,
Ultra HD
,
Ultra HDTV