Cerebras Systems has raised $250 million in a series F funding round, bringing the Sunnyvale, California-based firm's value to more than $4 billion, according to the company. Cerebras makes what is described as the world's fastest chip, the Wafer Scale Engine 2 (WSE-2). Investment from Alpha Wave Ventures and Abu Dhabi Growth Fund will allow Cerebras to make the CS-2 AI accelerator compute system designed around the turbo-charged WSE-2 chips available to new customers globally in what co-founder and CEO Andrew Feldman describes as the "democratization of AI."
In April, Cerebras announced it would release the next-generation of its 2019 WSE-1 chip in the third quarter of 2021, unveiling the WSE-2 specs.  A "brain-scale" processor with 120 trillion parameters, the revolutionary chip tops the 100 trillion synapses typically associated with human cerebrums. Its mind-boggling speed, the result of 2.6 trillion transistors, organized into 850,000 processing cores, is orders of magnitude faster than the roughly 54 billion transistors powering the fastest GPUs typically used today.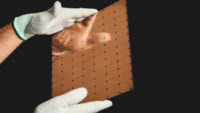 Cerebras shared in an August press release that "the technology enabling a single CS-2 accelerator" was "the size of a dorm room refrigerator," compact given the massive computing power.
SiliconANGLE describes the typical approach making chips as "carving as many as several dozen processors into a silicon wafer and then separating them." However, the Cerebras method is "vastly different," and carving a single large processor is not subdivided. The 12-inch WSE-2 wafer is built using 7-nanometer technology, resulting in a more tightly packed chip that has quicker response time because the data travels shorter distances.
To match the performance provided by a WSE-2 chip, a company would have to deploy dozens or hundreds of traditional GPU servers, writes SiliconANGLE. Cerebras says the WSE-2 has 123x more cores and 1,000x more on-chip memory than GPU competitors.
Speaking at the Fortune AI Brainstorm 2021 event earlier this month, Cerebras VP product management Andy Hock said the general shortage of chip components that has been widely reported as impacting supply chains worldwide has "no impact on us at the moment" regarding WSE-2 and CS-2 delivery.
Announcing the new funding round, Alpha Wave and Falcon Edge Capital co-founder and chairman Rick Gerson credits Cerebras with "redefining what is possible with AI," by extension "accelerating innovation across pharma and life sciences, multiple other fields, and scientific research."
Cerebras also announced it has opened new offices in Tokyo and Toronto while expanding its client roster.