Clarion is bringing what it claims to be the first fully digital, in-car audio system to CES this week. The company's Full Digital Sound (FDS) system also plays high-resolution audio. "This all-digital approach operates on a purely digital audio signal from the source to the speaker voice coils, resulting in pristine sounding audio with zero loss in quality and no added noise from DACs or analog connections," explained the company. The digital signal travels from the head unit to a processor and then to the speakers; at no point is it converted from digital to analog or passed through an amplifier.
"A digital Toslink output connects the head to an FDS processor, which in turn sends audio in digital form right up to the speakers' six-layer voice coils," reports TWICE. "The speakers incorporate the world's first large-scale integrated (LSI) circuit chip designed to be integrated with speakers, the company added."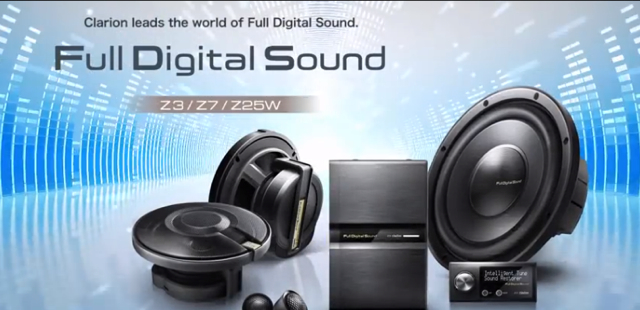 According to the Clarion FDS video, "digital audio on smartphones, tablets, and other high-resolution sources can be played back easily… Full Digital Sound can also be used with various system configurations."
Clarion will be in Westgate meeting rooms and the LVCC North Plaza this week at CES.
Topics:
Amplifier
,
Analog
,
Audio
,
Audio System
,
Automobile
,
Automotive
,
Cars
,
CES 2016
,
Clarion
,
CTA
,
DAC
,
FDS
,
Full Digital Sound
,
Head Unit
,
High Resolution Audio
,
Integrated Circuit Chip
,
Las Vegas
,
LSI
,
Mobile Devices
,
Processor
,
Smartphones
,
Sound
,
Speakers
,
Tablets
,
Toslink
,
Vehicles