The Oculus Rift and PlayStation VR are not the only anticipated virtual reality devices shipping this year. While VR fans may be disappointed that the HTC Vive release has been pushed to April, CEO Cher Wang hinted at December's Vive Unbound Developers Conference in Beijing that Valve and her team recently made "a very, very big technological breakthrough" to the system that prompted them to push the original Q1 launch date in favor of a more sophisticated product. Wang did not offer details, other than to suggest that the company is poised to make a major announcement at CES.
"We shouldn't make our users swap their systems later just so we could meet the December shipping date," Wang explained.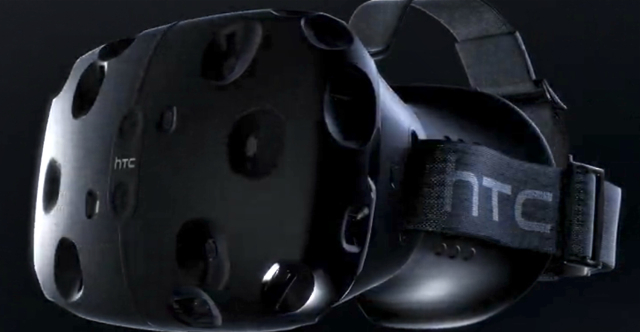 Rumors are starting to spread regarding features and specs. "The consumer model of the HTC Vive headset is said to sport a 2160x1200px display, which when split across two eyes equates to 1080x1200px for each eye," reports PC Advisor. "This should provide gamers with a fantastically detailed environment to interact with."
"The headset also has a refresh rate of 90Hz, which allows your games to be rendered at 90 fps and should remove the jitter present in other headsets, which contributes towards the feeling of nausea that some early VR adopters experienced."
PC Advisor notes that the Vive headset also features more than 70 sensors — including a gyroscope, accelerometer and laser position sensors — for accurately tracking head movement to 1/10th of a degree.
Pricing remains a mystery. According to Engadget, "it's safe to assume that this kit will cost much more than existing offerings due to its extra hardware, though Wang remains confident that people will prefer the Vive's more complete user experience, immersive feeling and quality of content."
"Why would I buy a handicapped product?" asked Wang. "You won't like it."
She was primarily "referring to the Oculus Rift's lack of object tracking," suggests Engadget, although it was acknowledged that the company needs "low-end platforms as well to achieve a sizeable market, which is also why HTC never even considered enforcing an exclusivity with Valve's SteamVR gaming platform right from the start."
HTC has additional VR plans in store for Vive, from surgery prep via 3D scans in hospitals to educational applications such as allowing students to travel through the human body as a blood cell.
Wang also noted that Audi plans to install Vives in its flagship stores next year to provide virtual test drives. And HTC may be partnering with other automobile manufacturers.
Topics:
360 Degree
,
3D
,
Accelerometer
,
Audi
,
Automobile
,
Beijing
,
CES 2016
,
Cher Wang
,
CTA
,
Education
,
Gamer
,
Gaming
,
Gyroscope
,
Hardware
,
Health
,
Hospital
,
HTC
,
Immersive
,
Las Vegas
,
Medical
,
Object Tracking
,
Oculus Rift
,
Refresh Rate
,
Sensor
,
SteamVR
,
Valve
,
Video
,
Virtual Reality
,
Virtual Test Drives
,
Vive