Digital Cinema is a hot topic this week at CinemaCon in Las Vegas on two specific fronts: the pursuit of alternative content to help fill theater seats during weeknights, and the need for a cost-effective electronic delivery system to transmit content to theaters. Still in its infancy, alternative content has already seen a number of success stories, including Met Live in HD (the Metropolitan Opera) and a 3D broadcast of the 50th-anniversary special of the BBC's "Doctor Who."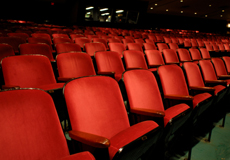 Fathom Events distributes Met Live in HD to 747 screens on Saturdays, with recorded encores on Wednesdays. The Met has a longstanding, dedicated fanbase, due in part to radio broadcasts that began in 1931.
Fathom's biggest one-night event resulted from another long-running series with a built-in fanbase. In November 2013, "Doctor Who: The Day of the Doctor" was available across 600 theaters and grossed $4.77 million.
"In general, Fathom has had success with a variety of genres, both live and recorded including concerts, documentaries on enthusiast sports like marathon running and cycling, as well as financial and political documentaries," reports Variety. "Live sports such as simulcasts of HBO boxing matches have done well."
"Alternative content requires targeting a new audience of senior citizens, singles and empty-nesters, who typically shun theaters on Friday and Saturday nights but are receptive to visiting the rest of the week if the right content is offered," notes the article. The concept also requires exhibitors to understand marketing.
One problem with new approaches to alternative content in theaters is the distribution process. While feature films are usually shipped to theaters on hard drives, this does not work with live content.
The Digital Cinema Distribution Coalition — a partnership of Cinemark, AMC, Regal, Warner Bros. and Universal Pictures — is working to deliver content electronically using satellite bandwidth and high-performance "catch servers." DCDC has signed content partners Disney, Fox, Lionsgate, Open Road, Paramount and Sony, while National Amusements and Southern Theatres are now exhibitor customers.
"The new equipment, which is being provided at no cost to exhibitors, launched at 1,200 venues representing 17,000 screens last fall," explains the article. "The coalition is 'doing substantially better' with the rollout in 2014, says DCDC CEO Randy Blotky."
In related news, DCDC has pacted to acquire the Deluxe/Echostar satellite network. "It's a huge leap forward for DCDC and for the industry, really," said Blotky about the acquisition. 
Topics:
Alternative
,
AMC
,
Bandwidth
,
Blotky
,
Catch
,
Cinema
,
CinemaCon
,
Cinemark
,
Coalition
,
Content
,
Creator
,
DCDC
,
Delivery
,
Deluxe
,
Disney
,
Distribution
,
EchoStar
,
Electronic
,
Encore
,
Exhibitor
,
Film
,
FOX
,
Hard Drive
,
HBO
,
Las Vegas
,
Lionsgate
,
Live
,
Marketing
,
Met Live
,
Network
,
Paramount
,
Regal
,
Release
,
Satellite
,
Server
,
Shipping
,
Single
,
Sony
,
Theater
,
Time
,
Universal
,
Variety
,
Viewer
,
Warner