Seoul-based CJ Group, which operates Asia's largest theater chain, wants to transform the multiplex experience with its new 4DX theater technology. The conglomerate has signed a deal with AEG to introduce "4-D" cinema to U.S. consumers this summer at Regal Cinemas L.A. Live Stadium 14 in downtown Los Angeles. The 4DX tech combines moving and vibrating theater seats with effects such as wind, strobes, fog, rain and scents — all synchronized to the film action taking place on screen.
"The venue would be the first American '4-D' theater for the CJ Group, which has already expanded into Japan, Taiwan, Chile, Columbia, Croatia and United Arab Emirates, among other countries," reports the Los Angeles Times. "As the West Coast 'flagship' of Regal Entertainment Group, the nation's largest movie exhibitor, the new theater will be within L.A. Live, the $3-billion sports and entertainment district."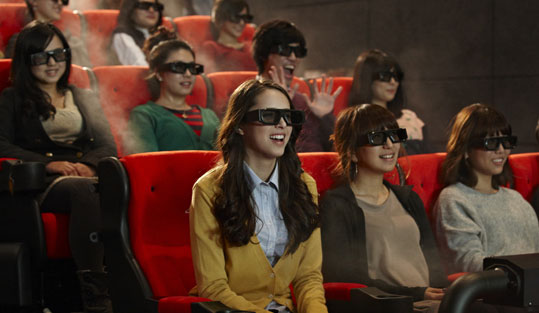 "In just a few short years, Regal Cinemas L.A. Live Stadium 14 has become not only the preferred location for blockbuster releases but the ideal venue to showcase the industry's newest exhibition technology, so it makes perfect sense that this revolutionary process be unveiled here first," said Shelby Russell, vice president of marketing for L.A. Live.
"Los Angeles was the natural choice for us in making it the first U.S. location to carry 4DX. We wanted to bring this experience to where all the movie magic happens," said Byung Hwan Choi, CEO of CJ 4DPlex, a division of CJ Group. "With AEG, owner and host of the world's most exciting entertainment venues as our strategic partner, we are very much looking forward to welcoming our audiences to a moviegoing experience never before seen in the U.S."
CJ 4DPlex showcased its technology at the CinemaCon show in Las Vegas. Since 2010, the company has installed 4DX tech in 91 theaters across 23 countries.
Topics:
4D
,
4DPlex
,
4DX
,
AEG
,
Asia
,
Audience
,
California
,
Chile
,
Choi
,
Cinema
,
CinemaCon
,
Columbia
,
Croatia
,
Effects
,
Event
,
Exhibition
,
Exhibitor
,
Experience
,
Film
,
Flagship
,
fog
,
Group
,
Japan
,
Korea
,
LA
,
LA Live
,
LA Times
,
Las Vegas
,
Los Angeles
,
Move
,
Movie
,
Multiplex
,
Regal
,
Russell
,
Scents
,
Screen
,
Seoul
,
Sports
,
Stadium
,
strobes
,
Taiwan
,
Technology
,
Theater
,
Vibrate
,
wind