The Internet of Things will comprise 200 billion devices by 2020, according to Steve Holmes of Intel's New Devices Group. He spoke about "Challenging Developers to Make It Wearable" during a day-long Sensors and MEMS Technology Conference at this week's CES in Las Vegas. "I want to talk to you about why I think people are under-estimating the impact of wearables, what Intel is doing and to share some of the things we've learned about bringing products to market," he said.
"I see a future where wearables are ubiquitous and everyone in the room is wearing not one, but a dozen," Holmes added. "They'll be an integral part of our lives."
Though there are currently only 14 billion connected devices (including one billion smartphones sold last year). Currently, only a few use cases have gained traction: fitness, smartwatches and smart glasses.
"There's a lot of work to take this from early adopters to mass market products," explained Holmes. "Part of that is the marriage between function and form. We're still defining the category."
What Intel has learned thus far in building wearable products with partners is that three factors define a successful wearable: intimacy, immediacy and persistence.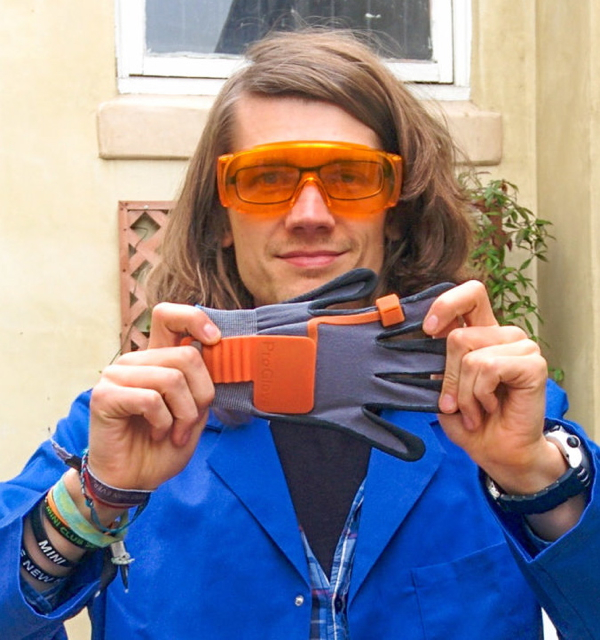 "What you wear says something about you so there's an intimacy to that," Holmes said. "Certain kinds of info can only be gained by having intimate contact with your body, touching your skin. Because these devices are close to you, they can give feedback to you and only you."
Immediacy — or being "glance-able" — is another important concept. "Getting information in the flow of the moment separates it from laptop or computer," he said. "It's really a critical value of wearables."
Another important and unique value proposition of wearables is persistence. "Certain kinds of information — such as heart arrhythmia — is only meaningful if you have them over a day, week, month. In the near future, it'll be considered as irresponsible not to have a health monitor as riding a bike without a helmet."
Holmes described wearable manufacturers who won Intel's 2014 Make It Wearable challenge. The ProGlove (above right) is used in a factory setting for manufacturing. "The idea is that you give information that allows the factory worker to do his job more efficiently," explained Holmes. "There's also the possibility of reducing the possibility of injury. Industrial and enterprise use is where you don't need to worry as much about cost as long as the investment is justified."
OpenBionics used 3D printing and MEMS to create an intelligent prosthetic hand. The winner of the challenge — Nixie — created a wearable that wraps around your wrist (early concept image below), but then turns into a drone with autonomous flight controlled by gestures.
Challenges to overcome in creating wearables include battery life and high costs. "But the trends in IoT will drive costs down," said Holmes. "A broader range of use cases will also be important. We're already seeing creativity as different industry groups come together and re-imagine what it is to be a wearable. "
Topics:
2015 CES
,
3D Printing
,
CEA
,
Connected Devices
,
Consumer Electronics Show
,
Fitness
,
Gesture Control
,
Health
,
Intel
,
Internet of Things
,
IoT
,
Laptop
,
Las Vegas
,
Make It Wearable
,
MEMS
,
MIG
,
Mobile
,
Nixie
,
OpenBionics
,
ProGlove
,
Sensors
,
Smart Glasses
,
Smartphones
,
Smartwatches
,
Steve Holmes
,
Wearables