During Samsung's CES press conference, chief executive and head of the Device eXperience (DX) Division Jong-Hee (JH) Han emphasized twin themes for the company at this years' confab. First is to deliver on the promise of smart devices. "It's about connecting all the devices that make up your life from home to workplace to car," he said. Second, he added, is "a more sustainable future." The company's vice president of corporate sustainability Inhee Chung announced that the DX Division will reach net zero carbon emissions by 2030, with a commitment to achieve that for the entire company by 2050.
Chung revealed that some of the company's most popular products, including many TVs and most Galaxy products, already have built-in sustainability such as use of recycled plastics.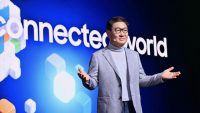 "We recognize our vision is a big one," explained Han (above). "It's about solving real challenges today and understanding consumers' future needs and aspirations. It will take time, innovation, and cooperation with partners worldwide. But we are committed to achieving it, and already getting started."
In partnership with Patagonia, Samsung helped develop a filter for use with its washing machines that reduces microplastic release by 54 percent. The filter will also be available for other washing machine brands.
From the Environmental Protection Agency (EPA), ENERGY STAR for consumer electronics product manager James Kwon announced that Samsung's "connected home experience with SmartThings is the first mass-market Smart Home Energy Management System to earn the ENERGY STAR SHEMS (Smart Home Energy Management Systems) Certification."
Samsung also debuted its latest smart home advance, the SmartThings Station, which turns Samsung's wireless charger into a smart home hub for its many SmartThings experiences. The Station is the first to integrate the industry-wide Matter smart home standard with built-in support at debut.
In the entertainment space, Samsung introduced a new partnership with Philips Hue for lighting the home entertainment theater. Philips Hue senior vice president and general manager Jasper Vervoort described how Samsung TV content can be synched with Philips Hue lighting via a Hue Sync app available in the Samsung TV app store.
Samsung introduced "next-gen monitor technology" with its Odyssey, ViewFinity and Smart Monitor lines. The Odyssey Neo G9 is a single monitor offering 7,680×2,160 resolution and a 32:9 aspect ratio in a 1000R curved 57-inch screen using quantum mini-LED technology and a VESA Display HDR 1000 specification.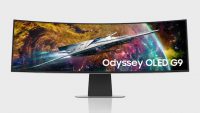 Samsung's quantum dot OLED technology is found in the Odyssey OLED G9 which features a dual quad-HD 49-inch 1800R curved display with a 32:9 ratio. It also offers a 0.1ms response time and 240Hz refresh rate as well as apps from Netflix, Prime Video and YouTube through Smart Hub.
Samsung's latest professional monitor is the ViewFinity S9 featuring a 5K 27-inch screen. Targeting creative professionals, the new monitor provides a color gamut of 99 percent DCI-P3 and a built-in Color Calibration Engine. It also connects to cameras (and other devices) via USB-C and Thunderbolt 4 connections.
Topics:
Car
,
Carbon Footprint
,
CES 2023
,
Energy Star
,
EPA
,
HDR
,
Inhee Chung
,
IoT
,
James Kwon
,
Jasper Vervoort
,
Jong-Hee Han
,
Matter
,
Mobile
,
Neo G9
,
Net Zero
,
Odyssey
,
OLED
,
Patagonia
,
Philips Hue
,
Recycling
,
Samsung
,
Samsung Galaxy
,
Smart Device
,
Smart Home
,
Smartphone
,
SmartThings
,
Television
,
TV
,
ViewFinity
,
Washing Machine