Canadian electronics and app firm Nuvyyo has introduced an ATSC 3.0-compatible over-the-air DVR that also receives existing OTA signals. The Tablo ATSC 3.0 Quad HDMI hybrid DVR records up to four channels simultaneously and accepts external hard drives of up to 8TB. The Tablo connects to any TV antenna and television, monitor or modem with an HDMI port. However, unlike other Nuvyyo network DVRs this Tablo model does not support the live streaming or sharing to other displays of recorded OTA content. Nuvyyo says for optimum performance the Tablo ATSC 3.0 Quad should be connected to a 4K HDR television.
CNET reports in referencing the Tablo ATSC 3.0 Quad that, "it's been a long time coming but products that feature the NextGen TV (ATSC 3.0) standard have arrived at CES 2022." By this summer, 50 percent of U.S. households "will be able to access at least a few OTA TV channels broadcast in ATSC 3.0" if they have a device with an ATSC 3.0-compatible tuner, Tablo says in company blog post.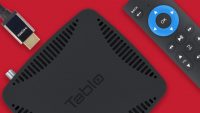 With this new Tablo, users can defer upgrading to a television with an ATSC 3.0 tuner to watch and record unencrypted NextGen OTA TV. The Tablo ATSC 3.0 Quad HDMI's "intuitive DVR interface" features a traditional live TV grid guide and offers one-touch series recording. Purchase includes a 30-day free trial of the Tablo Premium Service, which offers a more extensive guide and includes Automatic Commercial Skip, which costs $20 per year.
CNET calls the premium guide "one of Tablo's main strengths," worth the subscription.
The Verge calls cord-cutter-friendly DVRs a mature concept, with models like Tablo and and SiliconDust's competing device HDHomeRun "available for years," but heralds the arrival of ATSC 3.0 compatible devices as "the follow-up to the digital standard that replaced U.S. analog TV broadcasts in 2009," and describes the Tablo ATSC 3.0 Quad as supporting "plenty of upgrades," including high frame rate content, and more."
New decoding software allows the new Tablo Quad to support what Nuvyyo calls "ATSC 3.0's bleeding-edge audio and video codecs," which in addition to 4K HDR include Dolby AC-4 Surround Sound, where available.
The company explains that due to the "technical limitations, including lack of Dolby AC-4 audio support on most streaming devices and smart TVs, this is the first Tablo OTA DVR which cannot stream content inside or outside the home. Viewing is limited to a single connected television."
The $300 Tablo ATSC 3.0 Quad HDMI is available for preorder with commercial release set for spring.
For more on CES 2022:
CES Hashtag — #CES2022
CES Twitter Handle — @CES
CES Facebook Page — facebook.com/CES
Topics:
4K
,
ATSC 1.0
,
ATSC 3.0
,
Audio
,
Canada
,
CES 2022
,
Codecs
,
CTA
,
Digital TV Tuner
,
Digital Video Recorder
,
Dolby AC-4
,
DVR
,
HDHomeRun
,
HDMI
,
HDR
,
NextGen TV
,
Nuvyyo
,
OTA
,
OTA DVR
,
Over-the-Air
,
SiliconDust
,
Smart TV
,
Streaming TV
,
Tablo
,
Tuners
,
Video