Lumus introduced its second-generation AR eyewear technology, the Z-Lens 2D waveguide, at CES 2023. The Israeli-based supplier for OEMs making AR glasses says the new architecture accommodates AR projector modules that are 50 percent smaller, with outdoor compatible brightness and seamless prescription integration, setting the stage for a new class of AR glasses that are sleeker and more efficient. "In order for AR glasses to penetrate the consumer market in a meaningful way, they need to be impressive both functionally and aesthetically," said Lumus CEO Ari Grobman.
"With Z-Lens, we're aligning form and function, eliminating barriers-of-entry for the industry and paving the way for widespread consumer adoption," Grobman added in an announcement. Z-Lens continues the trajectory Lumus initiated two years ago with its Maximus 2D reflective waveguide technology. With Z-Lens, "Lumus hopes the tech will be the AR bridge to the exciting possibilities of the metaverse," according to VentureBeat.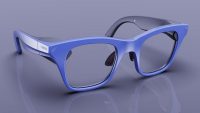 Building on what VentureBeat calls "the superb image quality and high luminance efficiency advantages of its predecessor, Maximus," the more compact Z-Lens will provide glasses manufacturers with more flexibility, and ultimately more natural looking AR glasses. "This new optical tech could make AR glasses look much cooler," enthused ZDNet, while TechCrunch says it paves the way for "AR glasses that don't look too dorky."
The Z-Lens optical engine offers 2K x 2K resolution and full color, with 3,000 nits brightness suitable for use in daylight via glasses that to third-party observers will look virtually indistinguishable from regular eyewear.
At CES, there was much enthusiasm for the Lumus Z-Lens "direct bonding of optical elements for prescription glasses, which can be licensed and utilized by manufacturing partners," according to VentureBeat, which writes that "this feature allows consumers to customize their AR eyeglasses to their vision without bulky, heavy inserts, enabling them to be utilized as normal eyewear."
The first prototypes of Lumus Z-Lens will feature a 50-degree field of view, however the company has a product roadmap reaching greater than 80 degrees. Other plusses include distortion-free real world images, low light leakage (which means onlookers can't see what the glasses wearer is viewing) and battery efficiency Lumus says is 10 times greater than that of competing waveguide tech.
In AR glasses with lenses that use Z-Lens reflective waveguides, the lenses "function as the 'screen' on which content is displayed, originating from any of a variety of micro-display technologies including microLED, LCoS or laser-based micro-projectors, integrated into the top perimeter corner of each lens cutout," VentureBeat explains.
TechRadar calls Z-Lens architecture "the future of augmented reality glasses" and says Lumus "makes a lens that's nothing short of perfect. Or a waveguide, I should say, the technical term for projecting an image onto or into the glasses in front of your face."
Topics:
2K
,
AR Glasses
,
Ari Grobman
,
Augmented Reality
,
Battery
,
CES 2023
,
Eyewear
,
Field of View
,
Glasses
,
Israel
,
LCoS
,
Licensing
,
Lightweight
,
Lumus
,
Maximus
,
Maximus 2D
,
Metaverse
,
MicroLED
,
OEM
,
Optical
,
Prescription
,
Prototype
,
Vision
,
Waveguide
,
Z-Lens