CES keynote presentations by Netflix CEO Reed Hastings and YouTube's chief business officer Robert Kyncl highlight the increasing importance of entertainment to the vast consumer technology market. The scheduling of Netflix as the opening session, a time slot usually occupied by hardware companies, helps to underscore the Consumer Technology Association's expanding universe of products and services. So, too, does the presence of two auto manufacturers, GM and VW, and tech giants Intel and IBM. Samsung is the lone hardware keynote.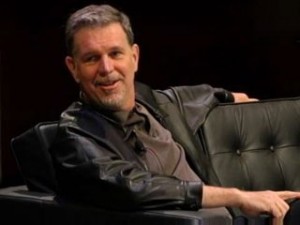 The high profile embrace of entertainment reflects the movement of the entire industry. The increasing presence of technology companies over the years, most notably Microsoft and Bill Gates "night before" keynote, were leading indicators of the role of tech in the delivery and presentation of entertainment. Similarly, the automotive segment is a hotbed of innovation and for the past 3 years, leaders of the major car makers have been delivering prominent keynotes.
Entertainment has always been at CES and in CES keynotes, but usually in a cameo appearance or supporting role. Not this year. Video content is the dominant consumer of bandwidth. In a study released earlier this year, Cisco noted that "by 2019, 72 percent of all Internet video traffic will cross content delivery networks, up from 57 percent in 2014."
Netflix is not just the Internet's big power user, consuming a reported 37 percent of Internet traffic, it has changed consumer consumption behavior, innovated new technology and clearly established itself as a powerful producer of original content.
Netflix's global expansion is expected to be nearly complete by the end of 2016 and what that means is expected to be the focus of Hasting's presentation. Hastings will be joined on the stage by the chief content officer of Netflix, Ted Sarandos. The keynote takes place in the Palazzo Ballroom at The Venetian at 8:30 am.
"Netflix continues to prove itself as a leading innovator by progressively changing the status quo of bringing entertainment to consumers," said Gary Shapiro, president and CEO of CTA in a press release. "Reed is a talented leader, entrepreneur and a key influencer for innovation in technology. We look forward to hearing from an executive who is leading a company that has redefined viewer expectations and has quite frankly changed the way that we all consume content."
CES keynote presentations take place between Tuesday and Thursday this year. Because of the often elaborate productions that many of the keynotes are, there are venues in multiple locations: The Westgate Hotel, The Venetian, and The Chelsea Theater at The Cosmopolitan Hotel.
Brian M. Krzanich, CEO of Intel, presents on Tuesday evening at 6:30 pm in the Venetian's Palazzo Ballroom. Intel bills its presentation Amazing Experiences Inside. In addition to its processors, Intel introduced RealSense, a motion sensing technology that promises to transform the computer interface and could factor into VR and AR experiences.
Also on Tuesday, January 5, at 8:30 pm, Dr. Herbert Diess, CEO of Volkswagen, will be the first of two automakers on CES stages. Early indicators are that he will unveil a new electric VW Microbus.
On January 6 at 1:00 pm in the Westgate Theater, General Motors CEO Mary Barra takes the stage to share GM's vision for the future. She is expected to show a new extended range electric vehicle, the Chevrolet Bolt, as part of her presentation.
Big Data appears to be one of the main topics for IBM chairman, president and CEO Ginni Rometty who is scheduled to speak at 4:30 pm on Wednesday, January 6 in the Palazzo Ballroom at the Venetian. "IBM continues to innovate at the intersection of technology and business, with a history of unlocking not just new products and services, but new eras," Gary Shapiro said in the CTA announcement.
Thursday, January 7, at 9:00 am, Dr. WP Hong, president of Samsung SDS, delivers the morning keynote in the Venetian Palazzo Ballroom. Samsung is the only traditional hardware company keynoting this year, although many of the competitors' press conferences contain much of the flair and flavor of keynotes.
Closing out the keynote presentations, Robert Kyncl will be at the Westgate Theater at 4:30 pm on Thursday, January 7 to share YouTube's plans as it continues to alter the media landscape. Kyncl was a speaker at CES in 2012 on the Entertainment Matters program. This year, Kyncl is on the main conference stage in large part because entertainment matters.

Topics:
Big Data
,
Bill Gates
,
Brian Krzanich
,
CES 2016
,
Chevy Bolt
,
CTA
,
Gary Shapiro
,
General Motors
,
Ginni Rometty
,
GM
,
Herbert Diess
,
IBM
,
IBM Watson
,
Intel
,
Keynote
,
Mary Barra
,
Microsoft
,
Netflix
,
RealSense
,
Reed Hastings
,
Robert Kyncl
,
Samsung
,
Ted Sarandos
,
Virginia Rometty
,
Volkswagen
,
WP Hong
,
YouTube