Netflix has become one of the world's top grossing apps after the streaming company introduced an in-app subscription option. Netflix placed ninth in App Annie's Top Grossing Apps chart for November 2015. This marks the first time that Netflix has made the list, joining the ranks of other streaming services including Spotify, Pandora, HBO Now and Hulu. Netflix's reluctance to sell subscriptions through its app in the past may have been due to Apple's steep cut of in-app purchase revenue.
Netflix began signing up new customers through its iOS app in late September. Because the company offers a free trial for one month, revenue didn't start pouring in until late October and November, reports TechCrunch.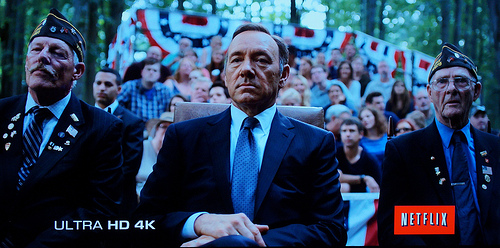 App Annie notes that Netflix trails HBO Now and Hulu, which placed fourth and eighth on the chart respectively. Netflix's streaming video competitors have been offering in-app subscriptions for some time, in spite of Apple's 30 percent cut of in-app purchase revenue.
Netflix still has room to grow. A report from eMarketer estimates that Netflix will increase its share of over-the-top video service users. Currently, Netflix has a 63.2 percent share of the market. By 2019, eMarketer estimates that they will have 71.7 percent. Hulu's share is also expected to grow from 33.1 percent to 41.2 percent. The eMarketer report did not provide estimates for HBO NOW, but it's likely that all of these streaming services will remain on the chart of Top 10 Grossing Apps as more viewers switch from DVD players and cable subscriptions to streaming devices and services.