When CES 2020 opens on January 7th in Las Vegas, I expect experiences — of which 'entertainment' is one option — will be center stage. We will be watching for repositioning of products and services as experiences, as well as for new ideas for experiences themselves. To state the obvious, for mixed reality and immersive experiences to work well, the user experience (UX) should be intuitive and match user expectations. Companies are working to achieve this by dealing in their own individual ways with the convergence of multisensory, multiplatform, immersive media technology and language (VR, AR, MR, XR); AI; 5G; IoT; robotics and autonomous things; and blockchain. Gartner describes this as a shift from technology-literate people to people-literate technology.
We see this in the rise of smart speakers, which is helping to normalize voice as a user interface; in the deployment of inside-out tracking in head mounted displays, which is normalizing intuitive hand and finger movements as a user interface option; in eye tracking, facial recognition, gait detection, and behavioral and biometric data gathering of all kinds, to deliver personalized experiences including marketing and political messages; and in software that enables cameras to map real world objects and spaces to create digital twins or "mirror worlds."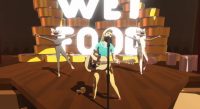 The nature and language of immersive experiences is reacting to these developments. Collaborative and social, virtual meetups are once again becoming popular and could reach a wider audience than previous incarnations did.
Wave, which originally offered silent VR dance events in venues, now allows people to experience live 360 concerts and raves with spatial audio in their homes surrounded by avatars they can interactive with. The number of escape rooms, including mixed reality escape rooms, has exploded worldwide. Experiences like "The Under Presents" (above) blend streaming game-like and story-driven experiences that include live actors manipulating in-experience characters at scheduled times.
Virtual Being conferences, Augmented World Expo, and IAAPA — where over 75 VR attractions were on display — are necessary complements to CES for anyone tracking trends and developments in immersive experiences.
The convergence is shaping how companies grow. For example, in recent years Apple has acquired video projection company Akonia Holographics, 3D depth sensor developer PrimeSense, computer vision company Regaind, AR headset maker Vrvana, and eye-tracking firm SensoMotoric Instruments. Standalone capabilities are being bundled to deliver integrated and interoperable experiences.
We expect to see incremental advances in all of these converging technologies at CES. We also expect to hear discussion and marketing spin on the unintended consequences. A recent Microsoft study found that 41 percent of voice assistant users have concerns about privacy and trust, even as 55 percent of teens use voice search on a daily basis. As we move toward more intuitive, human-like user interfaces (and phase out keyboards, controllers, and rectangular screens), we have to confront the fact that voice assistants reduce complex issues to a single answer, and mixed reality or immersive reality experiences reduce complex situations to algorithmically-bound scenarios.
People talk about the 4th Wave — the blending of the physical and digital worlds — that will enable humans to have new capabilities and experiences. At CES 2020 we will see incrementally advanced versions of products and services that move us closer to that future. We will see advances in the evolving human-technology partnership that will enhance human augmentation and help us experience our various realities in new and different ways.
I pulled ideas for this write-up from a number of different trend reports listed below, in no particular order:
Gartner Top 10 Strategic Technology Trends For 2020, Gartner
6 Storytelling Trends Marketing Leaders Should Know About, Digital Marketing Institute
Trends That Will Transform the Augmented and Virtual Reality Industry Outlook in 2020, Linchpin SEO
9 Digital Marketing Trends That Will Own 2020, Social Report
5 Trends For 2020, TrendWatching
Social Commerce Trends For 2020 You Need to Look Out For, Smart Insights
The 5 Biggest Trends In Cryptocurrency For 2020, CFO
The 7 Biggest Technology Trends In 2020 Everyone Must Get Ready For Now, Forbes
The 6 Career-Defining Tech Trends in 2020 Everyone Must Prepare For Now, Forbes
7 Software Development Trends 2020 Revealed, Hackernoon
Government Trends 2020: What Are the Most Transformational Trends in Government Today?, Deloitte Insights
Trivago's Top Hospitality Predictions For 2020, Hospitality Net
2019–2020 Design Trend: Avatar
7 Key Predictions For the Future of Voice Assistants and AI, Clearbridge Mobile
9 Augmented Reality Trends to Watch in 2019-2020, MobiDev
Topics:
5G
,
Akonia Holographics
,
Apple
,
Artificial Intelligence
,
Augmented Reality
,
Avatar
,
AWE
,
Biometrics
,
Blockchain
,
CES 2020
,
Extended Reality
,
Facial Recognition
,
Gartner
,
IAAPA
,
IoT
,
Mixed Reality
,
PrimeSense
,
Regaind
,
Robotics
,
SensoMotoric Instruments
,
Smart Speaker
,
Virtual Being
,
Virtual Reality
,
Voice Assistant
,
Vrvana
,
Wave