At CES, DTS demonstrated its new DTS:X codec that separates audio into objects rather than traditional channels (for example: dialogue or gunshots, instead of left, right, front, rear). The immersive sound technology is similar to Dolby Atmos, but DTS:X keeps dialogue separate, so the volume can be controlled independently during viewing. The company showed how DTS:X works with a television's built-in speakers by screening a soccer match and switching audio between teams, sideline microphones and broadcast announcers.
DTS is a leader in Blu-ray audio encoding. Its new DTS:X — the successor to DTS-HD Master audio — is expected to compete with Dolby Atmos and Auro 3D.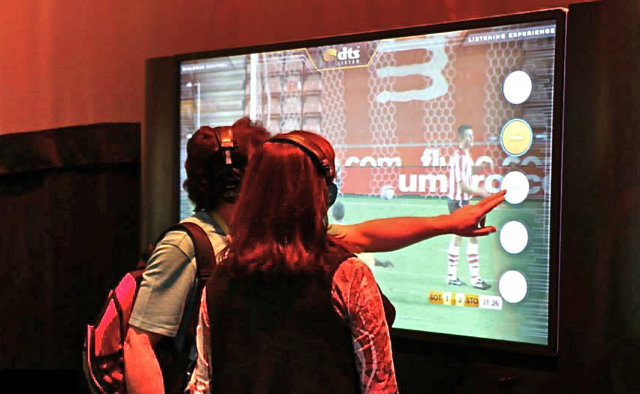 "Object-based audio represents a significant improvement in immersive surround sound quality and capability," AVS Forum explains. "Object-based formats promise increased control over the listening experience plus enhanced immersion thanks to the use of height channels. Furthermore, object-based formats promise flexibility in terms of speaker placement as well as how many speakers you can use."
While DTS did not offer a lot of details beyond what was listed in its press release, the company noted that additional information will become available when DTS:X rolls out in March.
"On paper, it sounds gimmicky as all get-out, but in use it's actually really worthwhile," suggests Engadget. "Not every Blu-ray or TV show has the best audio mix and this presents a real solution that could benefit practically anybody — not just the folks with dedicated surround sound systems."
Topics:
2015 CES
,
3D
,
Audio Mix
,
Auro 3D
,
Blu-ray
,
CEA
,
Channel
,
Codec
,
Consumer Electronics Show
,
Dolby
,
Dolby Atmos
,
DTS
,
DTS-HD Master
,
DTS:X
,
Encoding
,
Height Channels
,
Immersive
,
Las Vegas
,
Object-Based Audio
,
Objects
,
Sound Audio
,
Speakers
,
Surround Sound
,
Television
,
TV