While companies prepare to release virtual reality experiences into the consumer market, an increasing flow of money and effort is going toward developing and buying augmented reality (AR) technology and ideas. Augmented reality is any situation where your personal experience with the world around you is enhanced, supplemented, or added to via personally worn technology. The AR space is getting busy and increasingly crowded as companies position themselves to secure a piece of a new media ecosystem that is projected to yield $120B in revenue by 2020.
Despite the growing excitement, only a limited number of products and applications will be on display at CES 2016; however, they provide an interesting glimpse at what's here and what's next. The number of vendors slated for January's show that both self-identify as 'augmented reality' and describe products that appear to actually be AR is 24, a surprising small number. They mainly cluster into four groups:
Google Glass competitors (Westunitis, Remote Eye)
HoloLens competitors (ODG, Vuzix, Lumus, CastAR)
Object and room scanning apps (Occipital, Levels3D, VanGogh Imaging, Matter and Form) and gesture controls (uSens, Tianjin SharpNow Technology)
Marketing and fashion AR experiences (Marxent, Modiface)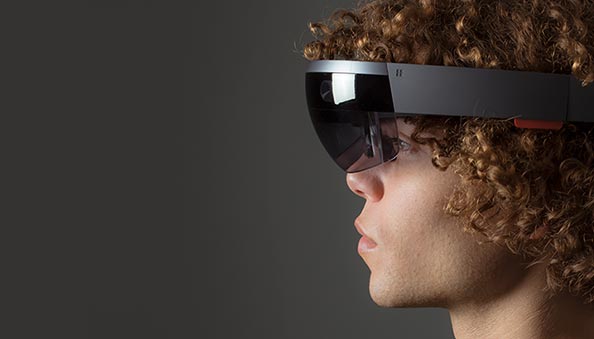 Lowe's, the home improvement warehouse chain, is showcasing its vision of "The Future of Retail" at the Lowe's Innovation Lab booth. The company has developed AR and VR consumer applications, as well as in-store helper robots.
QD Laser, a Japanese company, states in its exhibitor description that its "retinal imaging laser eyewear technology is planned to be commercialized in March 2016." This sounds like Magic Leap's expected approach to AR; projecting images directly into your eyes. It will be interesting to see if QD Laser has a demo.
NuEyes has developed software and modifications to the ODG AR glasses to help people with impaired vision.
"What's Next in AR" is the only AR panel located at the Las Vegas Convention Center. (There are two others off-site — here and here.) The panelists on this 1:00 pm January 6th panel in North Hall N253 are true subject-matter experts. They will cover what's next in the mobile AR ecosystem (Neil Trevett, Nvidia), AR glasses (Ralph Osterhout, ODG), and AR worldbuilding (Christopher Stapleton, Virtual World Society).
The spectrum of AR product is dynamic and varied.
Google Glass is 'entry-level' augmented reality because it places supplemental information in your field of view. At the other extreme, Mixed reality is emerging as the term that describes the situation where physical and virtual worlds are so well aligned that they appear to coexist.
Magic Leap recently raised another $857M (total funding $1.4B to date) for ongoing R&D in mixed reality technology with no product delivery date in sight. Internet of Things software maker PTC acquired the Vuforia AR technology from Qualcomm for $65M.
Amazon was granted two patents related to headset-free AR (e.g., beaming images into a room and interacting with them). Samsung was granted a patent for interactive images such as a virtual keypad in your palm.
Disney Research demonstrated how AR can bring a coloring book to life. Separately and independently, Michael Bay announced that he would launch a line of AR comic books. And to illustrate the global nature of AR activity, Muzreesiloode (traveling through the ancient seaport of Muziris) became the first Indian language travel book with AR enhancements (40 videos and over 100 still photographs) viewable on an Android phone.
In early December HoloLens became the first AR glasses to be used on the International Space Station. Technicians in Houston could see what the astronauts were seeing, and could provide them with animated instructions within their field of view. ODG would have been first with its AR glasses if the SpaceX delivery rocket hadn't blown up upon liftoff in June.
Microsoft announced that the HoloLens developer kit, for $3,000, will be released in Q1 2016, but said nothing about a consumer market release date. Meanwhile, Asus announced that it would launch a low-cost AR headset sometime in 2016, potentially disrupting pricing strategies in a market that doesn't exist yet. Daqri, which offers an AR hardhat, has reduced its entertainment industry activities and has focused its R&D and bus development efforts on industrial markets.
Regarding AR and society, ArtNetNews published an interesting article titled "The Law on Augmented Reality and Museums," and the University of Washington published the whitepaper "Augmented Reality: a Technology and Policy Primer."
We'll have more on augmented reality and mixed reality during our live show coverage in January.
Topics:
Amazon
,
Android
,
Asus
,
Augmented Reality
,
CastAR
,
CES 2016
,
Christopher Stapleton
,
CTA
,
Daqri
,
Disney
,
Google Glass
,
HoloLens
,
Internet of Things
,
Lowes
,
Lumus
,
Magic Leap
,
Marxent
,
Matter and Form
,
Michael Bay
,
Microsoft
,
Mixed Reality
,
ModiFace
,
Neil Trevett
,
NuEyes
,
Nvidia
,
Occipital
,
ODG
,
PTC
,
QD Laser
,
Qualcomm
,
Ralph Osterhout
,
Remote Eye
,
Robot
,
Samsung
,
SpaceX
,
Tianjin
,
uSens
,
VanGogh Imaging
,
Virtual Reality
,
Virtual World Society
,
Vuforia
,
Vuzix
,
Westunitis