CBS announced on Friday that it has wholly acquired TV Guide Digital, whose assets include TVGuide.com and TV Guide Mobile applications. CBS purchased the remaining 50 percent of TV Guide's digital assets from Lionsgate (although terms have not yet been disclosed). The site and apps will join the growing collection of CBS Interactive properties, where the digital group hopes they will help attract a larger audience in addition to advertisers.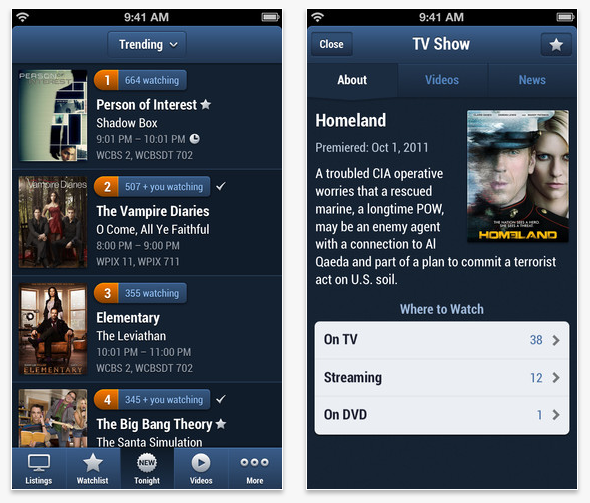 "The acquisition separates the online and mobile versions of TV Guide from a joint-venture partnership the broadcaster entered into this spring with Lionsgate to operate TV Guide Network, a basic cable network that reaches 80 million homes," reports the Los Angeles Times.
According to the press release, the 50/50 partnership between CBS and Lionsgate for the TVGN cable network, announced on March 26, will continue.
"TV Guide Digital will be integrated into CBS Interactive's portfolio of properties, which includes TV.com — a social media site where users gather to discuss television — as well as such brands as GameSpot, Last.fm, Metacritic and Chow," explains the LA Times. "It fits with the digital group's strategy of rolling up distinctive assets that are attractive to advertisers. The interactive division reported its best results in the first quarter, with overall revenue up 22 percent and video revenue jumping 76 percent."
"The media giant now has full control of both TVGuide.com and the TV Guide Mobile apps, both of which are folding into CBS Interactive's Technology, Games and Lifestyle division," adds Engadget. "CBS mostly hopes that the deal will make it a font of wisdom for channel surfers — it sees TV Guide Digital's rapidly growing audience and programming knowledge as complements to TV.com."
Last fall, media consultant Frank N. Magid Associates conducted research for TV Guide Digital that suggested the brand still has great consumer awareness, with 63 percent of 18- to 34-year-olds labeling the brand as "cool."
"I have never seen such a well-established brand score so highly with the younger adult demo," said Mike Vorhaus of Magid's digital consulting group.
The press release offers some interesting statistics:
1) TVGuide.com draws more than 16.5 million monthly unique visitors, and has had six consecutive years of double-digit growth.
2) TV Guide Mobile apps have been downloaded more than 9 million times and attract more than 2.5 million average monthly visitors.
3) More than 50 percent of visitors to the site and nearly 60 percent of people who use the apps are under the age of 35.
Topics:
Acquire
,
Acquisition
,
Ads
,
Advertising
,
App
,
Business
,
CBS
,
CBS Interactive
,
Chow
,
Deal
,
GameSpot
,
Last.fm
,
Lionsgate
,
Metacritic
,
Mobile
,
Revenue
,
TV Guide
,
TV Guide Digital
,
TV Guide Network
,
TV.com