Canon unveiled new models of its Vixia camcorders and PowerShot cameras at CES, including the $300-$450 Vixia HF R52, HF R50 and HF R500 camcorders with 57x zoom; the $400 Vixia mini X compact personal camcorder with 12.8 megapixel sensor; the $250 PowerShot SX600 HS with 18x optical zoom and 16-megapixel CMOS sensor; the $200 ELPH 340 HS with 12x optical zoom; and the $350 PowerShot N100 digital camera, which includes a new "dual capture mode."
The Vixia camcorders feature "SuperRange optical image stabilization and a Canon 3.28 megapixel Full HD CMOS image sensor," explains Carolyn Giardina for The Hollywood Reporter. "The HF R52 and R50 also feature new Wi-Fi capabilities, enabling them to function as remote monitoring devices with mobile Internet access."
"The Vixia HF R52 [above] is priced at $450 and features 32GB of internal memory; the HF R50 is expected to list for $400 and offer 8GB of internal memory; and the HF R500 is priced at $300. All three also allow the user to record to an SD memory card. They are expected to ship in March."
The Vixia mini X, also shipping in March, includes a Canon f/2.8 fisheye lens, Canon's DIGIC DV 4 image processor, and the ability to record in Full HD in MP4 or AVCHD to a SD memory card.
The compact SX600 HS will be available next month in red, white or black. The ELPH 340 HS, available in March, will be offered in purple, silver or black.
The dual capture mode of the PowerShot N100 [below], "allows users to simultaneously lens an image using the main camera, while the story camera, a rear-facing sub-camera, will embed a picture of them onto the main image," notes Carolyn.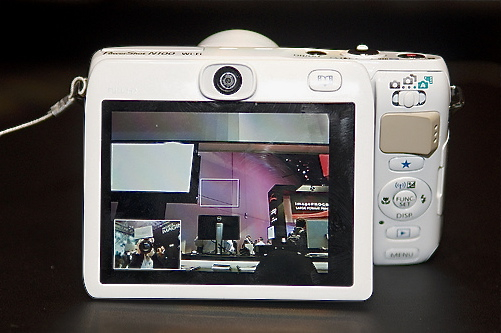 The idea behind the rear-facing camera is that "the photographer can be part of a special moment, like a wedding or birth of a newborn," adds Digital Trends. "Another feature is Story Highlights, which creates a highlight video of every photo that's stored on the memory card; the user can also curate what goes into that video."
The N100 is connected, featuring NFC for pairing with a smartphone via Wi-Fi. "It uses the same 12-megapixel High-Sensitivity CMOS as the previous N, but it now has the DIGIC VI image processor — the highest ever on a PowerShot," notes DT.
Topics:
Audio
,
AVCHD
,
Camcorder
,
Camera
,
Canon
,
Capture
,
CEA
,
CES
,
CMOS
,
Compact
,
Consumer
,
Electronics
,
ELPH
,
Facing
,
Full HD
,
HD
,
Highlights
,
Image
,
Las Vegas
,
Lens
,
Memory
,
Mini
,
Mini X
,
Mobile
,
MP4
,
NFC
,
Optical
,
Photo
,
Photograph
,
Photography
,
PowerShot
,
Processor
,
Record
,
SD
,
Show
,
Smartphone
,
Stabilization
,
Story
,
SuperRange
,
TFR
,
Video
,
Vixia
,
Wi-Fi
,
Zoom