Blackmagic Design has introduced the Blackmagic URSA Broadcast camera, aimed at studio programming and live production. The new camera shoots HD and Ultra HD resolution, sports an interchangeable lens mount and is priced at just under $3,500. The URSA Broadcast, available for sale now, has a B4 lens mount that works with existing HD broadcast lenses, which can be switched to allow PL, F or EF lenses. Footage can be recorded with SD or CFast media, both relatively inexpensive, with two slots for each format.
Digital Photography Review reports that, according to Blackmagic Design, "lossless 12-bit CinemaDNG Raw recording is possible for projects that require the best quality, while broadcast footage can be shot in 10-bit DNxHD 220X, DNxHD 145 or ProRes formats with metadata." An "extended video dynamic range" enables "a wide range of brightness values."
The camera includes three built-in ND filters, with "1/4, 1/16th and 1/64th stops," each "with IR compensation to maintain matchable colors from different situations." The camera's operations are largely through controls on its body rather than menu systems.
The press release notes "the camera features traditional broadcast controls along with exceptional image quality," and that its extended video mode "means customers don't have to color correct images before going to air."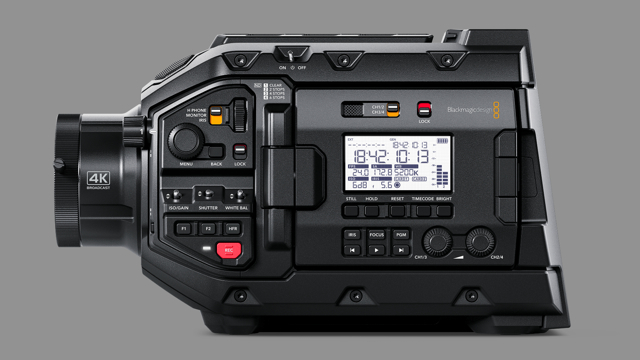 The camera also records HD as well as Ultra HD, onto "standard .mov files with .mxf to be added in future updates." Because it "records using DNx145, DNx220X or ProRes … video doesn't need to be copied or transcoded," which makes it "compatible with virtually all existing broadcast systems and editing software."
Other specs include a status display that allows the user to quickly check timecode, shutter and lens settings, battery, recording status, and audio levels. The camera "features all standard connections, including dual XLR mic/line audio inputs with phantom power, 12G‑SDI output for monitoring with camera status graphic overlay and separate XLR 4 pin power output for viewfinder power, headphone jack, LANC remote control and standard 4 pin 12V DC power connection." The camera also offers built-in stereo microphones for recording sound and a 4-inch foldout touchscreen.
Topics:
1080i
,
2160p
,
4K
,
4K Ultra HD
,
Audio
,
B4 Lens Mount
,
Battery
,
Blackmagic Design
,
Broadcast
,
Camera
,
Color Correction
,
DNxHD
,
Dynamic Range
,
Editing Software
,
HD Broadcast Lenses
,
Interchangeable Lenses
,
Live Production
,
ND Filters
,
Production
,
ProRes
,
Shutter
,
Timecode
,
Touchscreen
,
Transcoding
,
Ultra HD
,
URSA Broadcast
,
Video
,
Viewfinder