Best Buy and Amazon are both betting on salespeople who make visits to homes as one potential model for selling more consumer electronics. Best Buy is already testing that theory by hiring hundreds of salespeople in several cities to do just that. The free service is slated to roll out in the U.S. this fall. For Best Buy, getting salespeople in the home is another way to sell more TVs and CE gadgets while increasing business for its Geek Squad, which offers tech installation and repair services for a fee. Likewise, Amazon is expanding its free "smart home consultations" to help promote interest in its smart speakers and related products.
The Wall Street Journal reports that Best Buy chief executive Hubert Joly says the program allows the company to "unlock latent demand." "What we're finding is people in the home tend to spend more because we address a bigger need for them compared to what they spend in the store," he said.
Amazon's salespeople "let shoppers test its Echo smart speakers and voice-controlled devices," and can also "provide fee-based installation services after shoppers purchase the gadgets on Amazon." The company's service launched in July 2016 and has expanded to six more cities including Chicago and Hoboken, New Jersey.
Best Buy's in-home consultants are "traveling sales consultants" paid a salary (or hourly), not commissions, and can "provide product recommendations, ranging from HP and Apple laptops to Amazon Echo and Google Home devices," and arrange Geek Squad in-home installations and repairs and provide "repeat home visits, free of charge."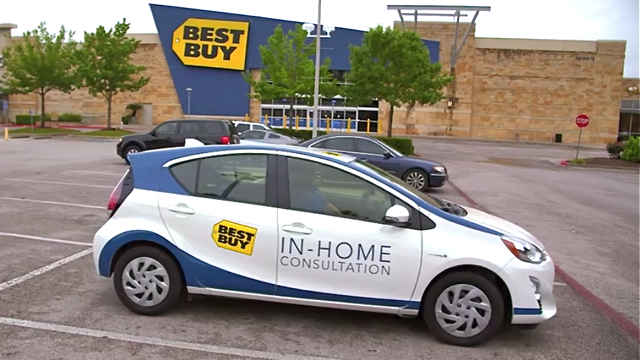 The company recently laid off about 400 Geek Squad employees, outsourcing the work, via Accenture, to the Philippines. It now has 1,000 positions open for in-home salespeople and is encouraging laid-off workers to apply.
Amazon's in-home appointments "are booked via its website, and a different employee may make follow-up visits, although armed with data collected from previous consultations."
According to research firm TraQline, Best Buy controls about 29 percent of the U.S. consumer electronics market (on revenue of $39.4 billion last year), followed by Walmart at 14 percent and Amazon at 11.2 percent. Best Buy's shares are up 45 percent so far in 2017.
Topics:
Accenture
,
Alexa
,
Amazon
,
Apple
,
Best Buy
,
Chicago
,
Consultants
,
Consumer Electronics
,
Echo
,
Echo Dot
,
Echo Show
,
Geek Squad
,
Google Home
,
Hoboken
,
HP
,
Hubert Joly
,
Installation
,
Philippines
,
Recommendations
,
Repair Services
,
Retail
,
Salespeople
,
Smart Home
,
Smart Speakers
,
Tech Support
,
TraQline
,
Virtual Assistants
,
Voice Controlled
,
Walmart