A future untapped market for media and entertainment is the time gained in our days thanks to the freedom provided by self-driving cars. As the world's population increases, travel times also continue to grow. When we no longer have to focus on the road while in our vehicles, all that time becomes a perfect opportunity to provide content. Audi and Disney have partnered to create what the German automaker is calling a "new type of media" to fill that time. The fruits of this partnership are scheduled to be revealed at January's CES in Las Vegas.
According to Nils Wollny, head of digital business strategy and customer experience for Audi, the auto manufacturer reached out to The Walt Disney Company more than 18 months ago. "You might be familiar with their Imagineering division [Walt Disney Imagineering], they're very heavy into building experiences for customers. And they were highly interested in what happens in cars in the future," he told CNET's Roadshow.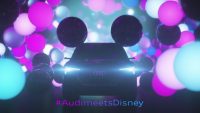 For the moment both companies have provided very little details as to what it is that they've created. (The screen grab above is from a short promo video featuring the tagline "Audi meets Disney.")
"I'd call it a new media type that isn't existing yet that takes full advantage of being in a vehicle," said Wollny. "What we've focused on is not a pure — not at all a classic marketing partnership, [of the sort] that very often happens between automotive companies and media companies. We created something completely new together, and it's very technologically driven."
While we can only speculate until the big unveiling at CES (it's not clear if the companies have collaborated on a system or platform designed for "gaming, education, navigation, movies, music or something else entirely," notes Roadshow), it will almost certainly require 5G and big data (something Audi has been collecting for some time).
Roadshow suggests that "it sounds like this new Audi-Disney media experience may, at least in the near term, take the form of some sort of interactive rear-seat multimedia experience, potentially involving augmented reality technology that involves not just what's inside a vehicle's cabin, but also the world outside."
ETCentric will have the latest updates on autonomous vehicles and other tech trends this January when its team reports live from CES.
Topics:
5G
,
Audi
,
Augmented Reality
,
Automotive
,
Autonomous Vehicle
,
Big Data
,
California
,
CES
,
CNET
,
Disney
,
Education
,
Gaming
,
Germany
,
Imagineering
,
Las Vegas
,
M&E
,
Marketing
,
Movie
,
Music
,
Navigation
,
Nils Wollny
,
Self-Driving Car
,
TWDC
,
Video
,
Virtual Reality
,
Volkswagen
,
WDI