AT&T just unveiled its new Facebook Messenger chatbot, dubbed Atticus, that's full of interesting trivia about a range of broadcast television programs, including "Modern Family," "How to Get Away with Murder," "The Big Bang Theory," "American Horror Story," "Pretty Little Liars," and "The Office." Described by AT&T as a "goofball," Atticus has been known to say, "If the Dunphy family is looking for another kid, I'd be happy to join them. I'd be no trouble. Especially since I don't physically exist. We'd be a real 'Modern Family'."
The Verge, which suggests Atticus is aimed at "lonely TV binge watchers," wonders if the chatbot is named after Atticus Finch in "To Kill a Mockingbird" or Gregory Peck who played the character in the 1962 film.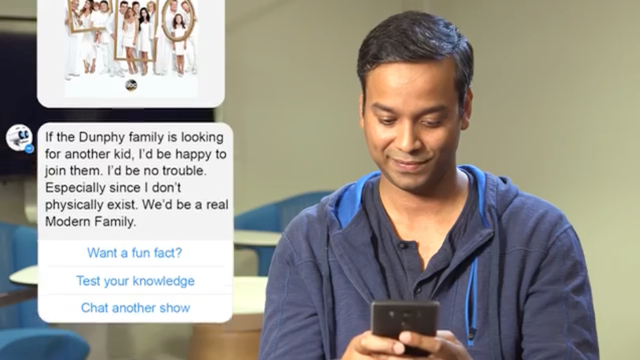 "Atticus the AT&T bot will talk at you about pop culture for hours," it reports, noting that "a bot that keeps you company through a day of binging on Netflix alone is sort of great idea." But Atticus "isn't the ideal audience," since no single bot can follow all the favorite characters and programs of every individual viewer.
Quartz also tried out the AI-powered bot. It found that Atticus asks trivia questions and shares "fun facts" about popular TV shows, but "seems to be more knowledgeable about broadcast TV fare" and AT&T originals including "Kingdom" and the sports talk show "Undeniable with Joe Buck," than "major current TV shows" like "Game of Thrones," "Westworld" and "The Walking Dead."
Atticus is "confused by all typed messages," adds Quartz, saying that, "users instead have to select from pre-written responses that Atticus was programmed to understand." It also notes that "AT&T's enthusiastic-but-buggy entertainment chatbot comes a month after the launch of its streaming-video platform, DirecTV Now, which features live and on-demand TV bundles."
Topics:
American Horror Story
,
Artificial Intelligence
,
AT&T
,
Atticus
,
Binge Viewing
,
Broadcast TV
,
DirecTV Now
,
Facebook
,
Game of Thrones
,
How to Get Away with Murder
,
Joe Buck
,
Kingdom
,
Messenger
,
Modern Family
,
Netflix
,
Pop Culture
,
Pretty Little Liars
,
The Big Bang Theory
,
The Office
,
The Walking Dead
,
Trivia
,
Westworld