Apple's 2021 "Spring Loaded" product launch this week included a new iMac, an updated iPad Pro with 5G and the company's M1 chip, an AirTag lost-device tracking device, a refreshed Apple TV 4K with a new remote, and a purple iPhone. Apple shares fell 2 percent after the event. Previous iPad Pros used A-series chips, that power the company's iPhones; the M1 chip in the high-end iPad Pros are used in its Mac computers. The 12.9-inch iPad Pro also offers an improved USB-C connector for high-res monitors and faster camera downloads.
CNBC reports that the iPad Pro (below) also features "an improved screen using an array of LEDs that is brighter and has better color resolution than previous displays using a technology called Mini-LED" and a "12-megapixel front-facing camera with an ultrawide lens that can automatically pan to keep human subjects in the shot." Some models will offer 5G support. The 11-inch model starts at $799 and the 12.9-inch at $1,099. They are available for pre-order April 30 and will ship in late May.
Apple's new iMac models, powered by Apple M1 chips, "have a new, thinner aluminum design, and they come in red, blue, purple, orange, yellow, silver, and green." The volume has been reduced by 50 percent, making it easier to fit on a desk, and it comes with a 24-inch built-in display that runs at 4.5K resolution and a camera that can record 1080p video in low light.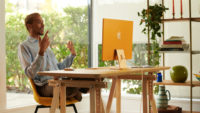 The new iMac (above) also ships with a magnetic power connector "reminiscent of Apple's previous MagSafe laptop chargers and a slightly updated keyboard with an emoji key and a fingerprint sensor." The entry level is priced at $1,299 with an upgraded version at $1,499.
Apple also introduced a new, redesigned Apple TV remote, "made of aluminum," with dedicated buttons for navigating menus. Two models, priced at $179 or $199, will ship in the second half of May with the new Apple TV 4K, which features a new processor and the ability to handle high-frame rate HDR video. Pre-order begins April 30, with shipping in the second half of May.
AirTag, dubbed an iPhone accessory, uses Apple's Find My technology to find lost objects. It's priced at $29 for one and $99 for four. Apple also introduced purple as a new color for the iPhone 12, and will launch its podcast subscription service next month.
CNN reports that the iPad Pro's M1 chip, which enabled Apple to shrink the internal hardware, will also provide "better graphics, enhanced video effects and augmented reality features." The updated camera offers Center Stage, a feature that "automatically zooms out during video calls or meetings, depending on the number of people in the frame."
The M1 chip will also let iMac apps "run faster, improve the speed of machine learning and enable the use of iPhone apps such as Zillow and Headspace from the iMac screen." A new mic will reduce feedback noise, and a Touch ID button will "let users unlock their computer, switch users or make payments through their fingerprints."
Apple now allows "spouses merge and share their Apple Card credit lines, while having equal rights on the account and with each person building credit." Any family member over 13 can now use the family Apple Card account, issued by Goldman Sachs and available only to iPhone users.
Related:
New iMac and iPad, Purple iPhone 12, AirTags and Everything Announced, CNET, 4/20/21
Apple's New Devices Target Markets Led by Smaller Rivals, The New York Times, 4/20/21
Apple Launches Podcast Subscriptions Service, No Sign of Major Move into Original Audio Programming, Deadline, 4/20/21
The New Apple TV 4K Comes with a New Siri Remote, TechCrunch, 4/20/21
AirTags Are the Perfectly Boring, Functional Future of AR, Wired, 4/21/21
Ransomware Gang Tries to Extort Apple Hours Ahead of Spring Loaded Event, The Record, 4/20/21
Topics:
4.5K
,
5G
,
AirTag
,
App
,
Apple
,
Apple Card
,
Apple TV 4K
,
Augmented Reality
,
Center Stage
,
Emoji
,
Find My iPhone
,
Fingerprint Sensor
,
Goldman Sachs
,
HDR
,
Headspace
,
iMac
,
iPad Pro
,
iPhone
,
iPhone 12
,
LED
,
M1 Chip
,
Machine Learning
,
MagSafe
,
MiniLEDs
,
Touch ID
,
TV Remote
,
USB-C
,
Zillow