Apple's WWDC annual week-long developer conference kicked off with a first peak at iOS 15 enhancements. That includes the next version of FaceTime, which will more closely resemble Zoom, including a grid view for group calls and spatial audio and voice isolation features. The company teased new software updates for AirPods Pro and AirPods, and a multitasking menu for iPadOS 15, coming this fall. The upcoming watchOS 8 will boost fitness, sleep and meditation features. Among numerous other announcements, the company showed data privacy improvements and revealed that HomeKit will now support Siri.
Wired reports that, "FaceTime is also getting a feature called SharePlay, which syncs streaming content inside FaceTime and allows users to watch movies or listen to music together while they chat." Android phones and Windows PC can also join in FaceTime calls for the first time, via a link in the web browser.
Regarding AirPods Pro and AirPods, "perhaps the most exciting feature is that they can now serve as low-powered hearing aids" for people with mild hearing loss, filtering out ambient noise. Both also support Dolby Atmos; Atmos-mixed music is also available on Apple Music, and tvOS will also offer spatial audio.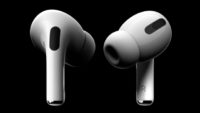 The iPadOS multitasking menu will allow users to "take apps full-screen, create a split view with multiple apps, or slide windows over to the side of the screen to access the home screen" as well as easily switch between apps. The Notes app is more collaborative, and widgets will be larger, thus easier to organize and manage. The Translate app will feature "real-time spoken language translations … across everything on the system."
Apple watchOS 8 will offer "some new meditative features" including the Breathe app, a new Reflect feature with feel-good prompts, and "new ways to measure different sleep goals." Apple Fitness+ includes Tai Chi, artist spotlight workouts and a new celebrity trainer, Jeanette Jenkins.
The company also showed off privacy enhancements, such as the ability in Mail to "block tracking pixels in emails that can expose your email activity" as well as hide "your IP address from email senders." These controls will also be available to subscribers of iCloud+, Apple's premium iCloud version, which comes with more privacy features. One such feature is a "new browsing mode in Safari that will allow iCloud+ subscribers to obfuscate their location and destination in the browser."
A new App Privacy Report is "a dashboard that gives you an overview of how often your downloaded apps are accessing your location, contacts, camera, and microphone, as well as which third-party addresses each app is pinging."
Siri will have "some on-device speech recognition smarts that lets the virtual assistant hear and execute most simple tasks … without needing to send your voice clips into the cloud for processing … [and] the Wallet app will soon allow you to store more sensitive cards like government-issued IDs … and keycards for your office building."
Apple Watch will now unlock your home's door if you're using an Apple-compatible smart lock, and the Home app on the Watch can be used as an intercom communication device with an intercom system compatible with Matter. The next macOS, due out in the fall, is dubbed Monterey and will feature Universal Control to allow the iPad to double as a second monitor.
The Verge published "The 15 Biggest Announcements" from WWDC21 with a thorough collection of related story links. The post includes an edited 23-minute version of the keynote address. For the full keynote, state of the union and other videos, visit the WWDC21 site.
Related:
Apple's RealityKit 2 Allows Developers to Create 3D Models for AR Using iPhone Photos, TechCrunch, 6/8/21
Did You Spot Apple's 'Top Secret Ideas for 2022' in WWDC Keynote?, Digital Trends, 6/7/21
Apple May Have Done the Coolest Drag and Drop Demo Ever, The Verge, 6/7/21
WWDC Didn't Answer One of Apple's Biggest Mysteries, ZDNet, 6/8/21
Apple to Introduce A/B Testing and In-App Events to the App Store, TechCrunch, 6/7/21
Apple's New Encrypted Browsing Feature Won't Be Available in China, Saudi Arabia and More, TechCrunch, 6/7/21
Apple's New App Store Guidelines Aim to Crack Down on Fraud and Scams, TechCrunch, 6/7/21
Apple's Tightly Controlled App Store Is Teeming with Scams, The Washington Post, 6/6/21
Topics:
AirPods
,
AirPods Pro
,
Android
,
App
,
App Privacy Report
,
Apple
,
Apple Fitness Plus
,
Apple HomeKit
,
Apple Music
,
Apple Wallet
,
Data Privacy
,
Dolby Atmos
,
FaceTime
,
HomeKit
,
iCloud
,
iOS 15
,
iPadOS
,
iPadOS 15
,
Jeanette Jenkins
,
macOS Monterey
,
Privacy
,
Safari
,
SharePlay
,
Siri
,
Spatial Audio
,
tvOS
,
Windows PC
,
WWDC
,
WWDC21
,
Zoom