Apple, the world's most highly valued public company, hit an all-time quarterly revenue record of $123.9 billion for Q4, an 11 percent increase year-over-year. The company also saw profits up 20 percent to $34.6 billion for the quarter despite the supply chain issues that plagued the industry. "We are gratified to see the response from customers around the world at a time when staying connected has never been more important," Apple CEO Tim Cook said in the company's earnings release, attributing the robust performance to "our most innovative lineup of products and services ever."
"As usual, the iPhone drove sales for Apple, which briefly crossed $3 trillion in market value earlier in January before sliding back to about $2.6 trillion by Thursday," wrote The New York Times. Sales of iPhones were up 9 percent for the quarter YOY, totaling $71.6 billion. Demand for the iPhone 13 and good supply chain planning helped.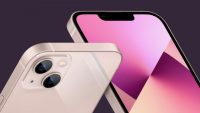 Apple had predicted that computer chip shortages and manufacturing challenges in Asia related to the COVID-19 pandemic would crimp supply and likely hamper revenue. Intel was another tech company that last week announced a record quarter (and year) despite the odds.
But Cook told investors on his Thursday earnings call that were it not for the supply problems, Apple would have done much better, claiming the pandemic crunch cost the company an estimated $6 billion in potential Q4 revenue. He said the bottleneck seems to be easing, if not disappearing. "March is better than December, and so there's some encouraging signs there," Cook said on the call.
"The interesting thing with Apple is it's like a freight train at the moment. It's weathered the pandemic extremely well," CCS Insight analyst Ben Wood said on CNBC, which reported that globally "there are now 1.8 billion devices on the Apple network, referring to products like iPhones, iPads, Macs, Apple Watches and HomePod" smart speakers.
Apple's global sales growth was led by "a 20 percent year-over-year increase in China and 19 percent in the rest of the Asia-Pacific region, though sales in Japan dropped by 14 percent from the same quarter the prior year," according to NYT. The company's new fall products included updated MacBook Pro laptops, AirPods, the Apple Watch and iPads (though sales of the latter declined).
Apple "is working on an augmented reality headset that could compete with offerings from companies like Meta, Facebook's parent," wrote NYT, noting, Cook "sidestepped a question about how Apple is thinking about the metaverse on the earnings call, saying, 'We see a lot of potential in this space and are investing accordingly.'"
Topics:
AirPods
,
Apple
,
Apple HomePods
,
Apple Watch
,
AR Headset
,
Augmented Reality
,
Ben Wood
,
CCS Insight
,
China
,
Chip
,
COVID-19
,
Facebook
,
HomePod
,
Intel
,
iPad
,
iPhone
,
iPhone 13
,
Japan
,
Laptop
,
Mac
,
MacBook Pro
,
Meta
,
Metaverse
,
Semiconductor
,
Smart Speaker
,
Smartphone
,
Supply Chain
,
Tim Cook