In the next few weeks, Apple and Goldman Sachs Group will issue a joint credit card for testing to employees, for a launch later in 2019. The card will offer consumers features on Apple's Wallet app that will allow them to track their balances and rewards as well as set spending goals, said sources. With the card, Apple makes a major move into iPhone users' finances. For Goldman Sachs, the card is part of a strategy to appeal to ordinary consumers. Neither company, however, has much experience in this arena.
The Wall Street Journal reports that, "both are looking for new revenue sources as their bread-and-butter businesses struggle." Apple has turned to services, including partnering with Hollywood studios to produce original TV shows, with the target of generating $50 billion in revenue by 2020. The company already takes a small cut when iPhone users make credit card buys through Apple Pay, but sources said "it would get a bigger slice of the swipe fees from its own card … [as well as] boost use of Apple Pay."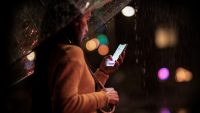 Goldman, which in 2016 opened Marcus, an online consumer bank, is eyeing Apple's "loyal following among wealthy, tech-savvy young adults whom Goldman hopes to turn into Marcus customers." To service the new credit card, Goldman has had to create customer support call centers around the country and, with a $200 million budget, build a system to handle payments. These major investments come at a time the company is trying to trim costs.
The Apple Pay card, reports WSJ, will "use Mastercard's payment network, which is the second-largest in the U.S. after Visa." Sources said the card will allow cardholders to "earn cash back of about 2 percent on most purchases and potentially more on Apple gadgets and services."
Rather than offer travel points or other costly perks, Apple and Goldman Sachs believe that their card will be successful because of its integration with the iPhone. To boost this feature, "engineers are working on new features for the Apple Wallet app that would encourage users to pay down their credit-card debt and manage their balances."
Goldman, critical of the credit card industry, promotes Marcus loans as "an alternative to higher-interest cards." One potential downside to the card is that Apple "risks angering banks whose cards account for the bulk of the transactions running over Apple Pay." Goldman executives want to "eventually offer Marcus loans, wealth-management services and other products to Apple customers," said sources.