Google announced its first operating system for wearable technology yesterday. Android Wear will initially be introduced in smartwatches to feature Google Now reminders, fitness trackers, app notifications from smartphones, and voice capabilities that offer interaction with multiple screens. The company is working with Android partners such as Asus, HTC, LG, Motorola and Samsung. LG's upcoming G Watch and Motorola's Moto 360, for example, will be two early smartwatches featuring the OS.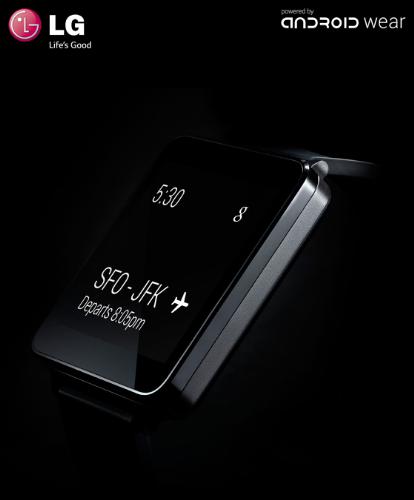 "LG is planning to introduce its first watch powered by Android Wear in the second quarter of 2014," according to a company press release. The G Watch (pictured right), "will present a low barrier to entry for developers and offer the best Google experience for users. LG engineers worked closely with Google from the initial stages of development to ensure that the LG G Watch worked perfectly with Android Wear. This is LG's fourth device developed in close collaboration with Google following the Nexus 4, Nexus 5 and the LG G Pad 8.3 Google Play Edition."
The Moto 360 (pictured below) "will be available in a variety of styles globally in Summer 2014, starting in the U.S.," explains the Motorola Blog. "Moto 360 keeps you on time and up to date without taking you out of the moment or distracting you, telling you what you need to know before you know you need it through subtle alerts and notifications. With just a twist of the wrist you can see who's emailing or calling, what time your next meeting is or a friend's latest social post."
The watch also responds to a user's voice, notes the blog post: "Just say 'OK Google' to ask questions like who won the Stanford vs. New Mexico game or what time your flight leaves, or to get stuff done like scheduling an appointment, sending a text, setting an alarm or taking a note."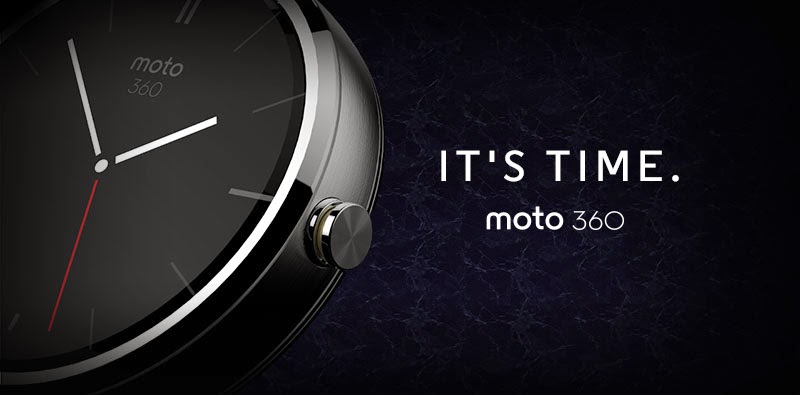 Fitness will be "a key component" of Android Wear, reports The Verge. "Google says that you'll be able to get 'real-time speed, distance and time information on your wrist for your run, cycle or walk.' Naturally, that means Google Maps will be built in so that you'll be able to get directions directly from your wrist."
"The company will also be using Google Now in the watches. Automatic, passive reminders will be sent to users via their smartwatch. The watches will also connect with Android smartphones so that you'll be able to get all the notifications that you want from whatever apps you have installed on your phone."
The multi-screen functionality will enable interaction via voice commands with Chromecast and music controls for a smartphone. It also has interesting possibilities for future connected smart homes and vehicles.
"We've barely scratched the surface of what's possible with mobile technology," wrote Sundar Pichai, SVP of Android, Chrome & Apps, on the Google Blog. "That's why we're so excited about wearables — they understand the context of the world around you, and you can interact with them simply and efficiently, with just a glance or a spoken word." (Pichai's post includes two videos.)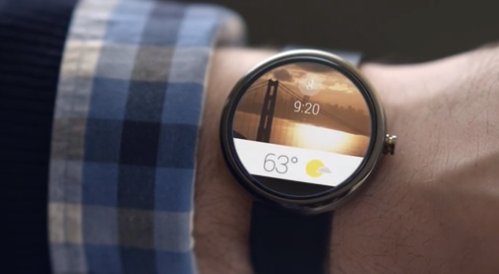 Additional details regarding Android Wear are expected to be unveiled during the Google I/O event in June, including how the company plans to use the OS in devices beyond smartwatches. In the meanwhile, Google has posted a Developer Preview page, with more resources and APIs promised soon.
Related Stories:
Motorola, LG Announce Upcoming Android Wear Smartwatches, The Verge, 3/18/14
This is Motorola's New Android Wear Smartwatch: Moto 360, Engadget, 3/18/14
Google Announces Android Wear, a Nexus-like Platform for Wearables, Engadget, 3/18/14
Topics:
Alarm
,
Alert
,
Android
,
API
,
App
,
Asus
,
Car
,
Chrome
,
Chromecast
,
Communication
,
Developer
,
Dongle
,
Fitness
,
G Pad
,
G Watch
,
Google
,
Health
,
Home
,
HTC
,
I/O
,
LG
,
Maps
,
Mobile
,
Moto 360
,
Motorola
,
Music
,
Nexus
,
Notification
,
Phone
,
Pichai
,
Play
,
Preview
,
Reminder
,
Samsung
,
Screen
,
Smartphone
,
Smartwatch
,
Social
,
Streaming
,
System
,
Text
,
Tracker
,
Vehicle
,
Voice
,
Watch
,
Wear
,
Wearable
,
Wrist