The long-running legal battle between Viacom and Google over YouTube has been resolved. Viacom has been suing Google since 2007, arguing that the online video site violated copyrights. The two companies announced yesterday that they have settled out of court. Specific terms of the settlement were not disclosed, but people familiar with the matter suggest that both sides are now free to explore potential business partnerships, including the possibility of collaboration on advertising technology.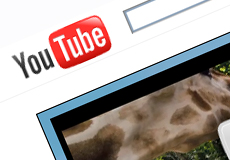 "At one point Viacom, the cable powerhouse that owns networks such as MTV and Comedy Central, had been seeking $1 billion in damages from Google," reports Re/code. "But no money traded hands in the settlement, according to people familiar with the transaction."
"One area of potential collaboration relates to advertising technology, where Google is a powerhouse, one of the people said. Viacom is looking for a partnership in that area as it expands distribution of its content online and on mobile devices," notes The Wall Street Journal.
"This settlement reflects the growing collaborative dialogue between our two companies on important opportunities, and we look forward to working more closely together," explained the companies in a joint statement.
Viacom initially brought the case against YouTube, claiming the site had infringed on copyrights by allowing its users to post nearly 160,000 unauthorized clips of Viacom-owned programs. A federal judge ruled twice against Viacom, which continued to appeal. The matter was scheduled to go back to court next week.
"Seven years ago, the copyright lawsuit looked like it would have major implications for the way the Web worked," suggests Re/code. "But by now the suit had become an asterisk, because in many ways the core issues have been settled by both the courts and the market. In very broad strokes, the practical consensus is that digital services like YouTube — and Twitter, and Facebook, and everyone else that distributes lots of content uploaded by its users — are not responsible for copyright violations if they don't explicitly encourage them, and if they let copyright holders take down stuff they don't want up there."
Google's introduction of the Content ID filtering technology addressed that issue. Content ID helps detect copyrighted content on YouTube so that media companies can decide whether or not they want it removed.
"Google's approach to dealing with media companies has evolved over the years," explains WSJ. "Besides developing Content ID, the company has shown an appetite to license content. In recent months, for example, even as the litigation was pending, it approached Viacom and other media companies about licensing the rights to TV channels for an online pay-TV service Google was considering developing, said people familiar with the matter. Those plans haven't advanced very far."
Insiders suggests that, despite the settlement, Viacom is more interested in working with pay TV operators to distribute content online through the TV Everywhere model than making a major push to distribute content via YouTube.
Topics:
Advertising
,
Business
,
Cable
,
Central
,
Clip
,
Collaborate
,
Comedy
,
Content
,
Copyright
,
Court
,
Distribution
,
Facebook
,
Federal
,
Filter
,
Google
,
ID
,
Judge
,
Law
,
Lawsuit
,
Legal
,
License
,
Licensing
,
Litigation
,
Mobile
,
MTV
,
Network
,
Online
,
Pay TV
,
Program
,
Recode
,
Settle
,
Settlement
,
Show
,
Social
,
Stream
,
Television
,
TV
,
TV Everywhere
,
Twitter
,
Unauthorized
,
Upload
,
Viacom
,
Video
,
Violate
,
Violation
,
YouTube