Amazon is adding an interactive clip-sharing feature to its Prime Video streaming service that allows users to share short video clips from Amazon Originals via social media and direct message. The feature is available for Amazon series "The Boys," "The Wilds," "Invincible" and "Fairfax," with plans to expand to other original TV shows and movies in the future. Users can click on the "Share a clip" button while watching the content, and the app will generate a 30-second clip. Amazon is the first major streaming platform to introduce such a video-sharing feature. For the initial rollout, the feature is only available for iOS users in the U.S.
"Once you click the button, the streaming service will pause the show to open up a screen where you can clip and edit the video," TechCrunch explains. "The app will then create a clip of what you just watched, allowing you to move the clip forward or backward to exactly where you want it. You'll also be able to preview the clip before sharing it with others."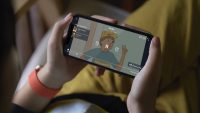 Selecting the "Share a clip" icon allows you to upload your selected clip "or share it via Instagram, Facebook, Twitter, iMessage, Messenger and WhatsApp."
The new feature is a departure in the streaming media space, In fact, most competing services take steps to prevent users from even capturing screenshots. However, Amazon is experimenting with a model that could easily leverage the popularity of video-sharing while also promoting its subscription service and slate of Originals.
The company could "be hoping to attract more users to Prime Video by encouraging its users to share clips of its original content with their friends and followers and hopefully get them interested enough to check it out themselves," notes TechCrunch.
"It seems like an obvious feature for any streaming service to add — people genuinely like sharing clips from the shows they're watching, and them doing so is basically free marketing for that show," suggests The Verge.