Amazon has inked an exclusive license for "Tala's World," a seven-episode young adult adventure series produced by audio startup Xandra, which has produced Alexa skills for HBO, Sesame Workshop and Ubisoft. In the new adventure series, listeners help elf-like character Blobby find his missing best friend Tala by making decisions, collecting clues, and interrogating suspects. Available exclusively on Alexa, Amazon recently released the first episode and plans to release the second episode on December 13.
Variety reports that "this is the first time the company has licensed original interactive audio content for Alexa." Amazon FreeTime subscribers get access to the entire series for free. The first two episodes of "Tala's World" are free for everyone else, and the rest of the episodes are available for a one-time payment of $4.99.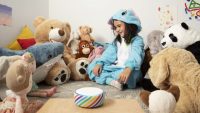 "'Tala's World' showcases how voice can enhance immersive storytelling, providing users with an engaging way to influence a plot's outcome," said Amazon Alexa skills director Joe Balzarini. "We're thrilled that Xandra has created a voice-first experience that demonstrates how many creative possibilities exist for interactive storytelling."
At Xandra, which has won Clio Awards for its work, chief executive Zach Johnson said that his company "long had plans to launch its original IP for smart speakers and take interactive audio beyond the one-off skills and games that dominate the Alexa skills catalog today."
"There is a huge appetite for interactive content," he said. He added that, with each episode between 15 and 20 minutes, depending on the choices made, he anticipates that listeners will play one episode at a time. "Bingeing on it is quite an ask," he explained.
The production used professional voice actors, not Alexa's text-to-speech engine, to tell the story, which "required a few interesting tweaks to help with the suspension of disbelief." For example, in the first episode, "Blobby asks the listener for her or his name — only to then decide that it is too complicated to repeat."
Although the story asks users to remember and repeat key phrases, "the story is forgiving if listeners don't get it quite right." Johnson noted that the series' "memory mechanics are designed for kids," meaning it doesn't require much from episode to episode. Xandra also offers original art for Echo Show, Fire TVs with Alexa and any other Echo devices with screens. "With each episode, you are getting multiple images," said Johnson.