Amazon inked a deal with Apple to sell more of the tech giant's products, including the new iPad Pro, iPhone XR, iPhone XS, Apple Watch Series 4, and its Beats headphone line. Amazon will begin listing those products — from Apple-authorized resellers only — in the next few weeks in the U.S., U.K., France, Germany, Italy, Spain, Japan and India. Before this deal, Amazon already directly sold MacBook laptops, Beats headphones and a few other Apple devices. Other products were only available through its third-party resellers.
CNET reports that, "with the new deal, customers should expect to see a greater selection of new Apple products and at standard prices." The deal is a win-win: Amazon will be able to offer "highly sought-after products" for the holiday season, and Apple could potentially sell more devices worldwide.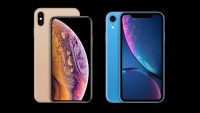 The deal also marks an improvement in the relationship between the two tech giants, since Amazon removed Apple TV products from its site in 2015. Last year, Amazon brought back Apple TV and Google's Chromecast, but it still has a shaky relationship with the latter company.
The new deal will impact third-party sellers, however, who will see their listings disappear from Amazon on January 4, 2019. These sellers will have to apply to Apple to become authorized resellers. The deal does not, however, "impact Amazon's Renewed program, which sells certified refurbished electronics." Although Amazon and Apple will "have more control over inventory and pricing of Apple products … smaller sellers and folks who flip iPhones right after they go on sale are likely to be hurt by the deal."
Shoppers looking for used (but not refurbished) Apple products will also likely find more selection on rival sites such as eBay. Amazon has trended towards "adding more restrictions to its marketplace over the years, making it harder for small sellers to put up products on Amazon if they aren't working directly with the brands they list."
According to eMarketer analyst Andrew Lipsman, "the timing of the deal does raise questions … adding that Amazon's weaker-than-expected revenue in its latest quarter may have been a motivator for the company heading into the holidays." "But the real threat there is in Amazon introducing a rival product," he said. "I'd say Apple is pretty safe there."
Amazon will not list all of Apple's products, including that company's HomePod smart speaker, which vies with Amazon's Echo speakers for market dominance (it also doesn't list Google Home speakers). "We make assortment decisions all the time, based on terms and a large number of other factors," said an Amazon spokesperson.
Topics:
Amazon
,
Andrew Lipsman
,
Apple
,
Apple TV
,
Apple Watch
,
Apple Watch Series 4
,
Authorized Resellers
,
Beats
,
Chromecast
,
E-Commerce
,
eBay
,
Echo
,
eMarketer
,
Google
,
Google Home
,
Headphones
,
HomePod
,
iPad
,
iPad Pro
,
iPhone
,
iPhone XR
,
iPhone XS
,
MacBook
,
Mobile
,
Renewed
,
Smart Speakers
,
Smartphones