Aereo, the Internet service startup backed by Barry Diller that streams TV stations without compensation, has won another battle with broadcasters. The U.S. Court of Appeals for the Second Circuit in New York yesterday upheld a ruling in favor of Aereo, which could set the stage for a full-blown trial. Broadcasters sued the startup last year claiming the service violates copyright law, but a district court judge denied the request for a preliminary injunction. Monday's 2-1 decision affirms the lower court ruling.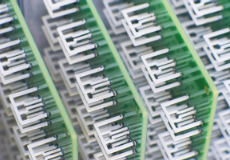 "The broadcasters, surprised and disappointed, said they were confident they would prevail eventually," reports The New York Times. "But as the legal battles continue, Aereo, for now available only in New York City, plans to offer its service in nearly two dozen more cities this year."
"We always thought our Aereo platform was permissible and I'm glad the court has denied the injunction," said Diller. "Now we'll build out the rest of the U.S."
"Aereo is able to stream broadcast stations by operating an array of tiny antennas that pick up over-the-air signals," explains the article. "Subscribers paying about $8 a month receive control over one antenna and can select programming over the Internet. Aereo essentially turns the subscriber's phone, computer or tablet into a small television set, but without the rabbit ears that would normally be needed."
With its array of antennas, Aereo avoids paying retransmission fees that operators pay for access to stations, an increasingly important source of revenue for the stations. Some analysts suggest the ruling could lead to cable and satellite providers adopting a similar approach to bypass fee requirements, while others believe broadcasters may lobby Congress to change the law.
However, a group of plaintiffs said they plan to move to trial. "Today's decision is a loss for the entire creative community," they said in a statement. "The court has ruled that it is O.K. to steal copyrighted material and retransmit it without compensation. While we are disappointed with this decision, we have and are considering our options to protect our programming."
In a related Wall Street Journal article over the weekend, Aereo has discussed partnerships with pay TV distributors and Internet service providers, including AT&T and Dish Network, as part of its plans to reach more markets. Discussions with AT&T have reportedly involved offering the live TV service as part of a broadband or wireless package, while talks with Dish have centered on smaller, cheaper packages of channels. Both discussions are said to hinge on Aereo's legal situation.
Topics:
Aereo
,
Antenna
,
Array
,
AT&T
,
Barry Diller
,
Broadband
,
Broadcast
,
Broadcasters
,
Copyright
,
Dish Network
,
Federal Court
,
ISP
,
Law
,
Legal
,
Live TV
,
New York
,
Packaging
,
Pay TV
,
Smartphone
,
Streaming
,
Tablet
,
Television
,
TV
,
Wireless