Aereo filed a complaint against CBS yesterday as a preemptive strike to stop the network from filing additional lawsuits. The move marks the latest chapter of what has become a tug-and-war between broadcasters and Aereo, the Barry Diller-backed startup that provides access to over-the-air TV broadcasts via the Web. Broadcasters see the model as infringing on copyright, since the programming is redistributed without permission.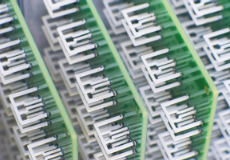 "The company is asking that the court prevent CBS from suing Aereo in every district to which it expands, as CBS has twice threatened to sue Aereo in Boston, where it will launch on May 15," according to TechCrunch.
Aereo began its service in New York and has plans to expand to 22 U.S. cities.
"Two groups of television networks — groups that include CBS, Fox, and NBC — filed copyright claims last year and argued that Aereo is an illegal service because it distributes their programming without compensating them," reports The Verge. "After losing two decisions in New York this year, a CBS spokesman said on Twitter two weeks ago that CBS plans to file another lawsuit against Aereo in Boston, an area Aereo recently announced it would move into. Aereo says that the broadcasters are just shopping for a more sympathetic court and that it's a waste of the public's resources."
"Last year, the trial court denied CBS and the other broadcasters' request for a preliminary injunction against Aereo," explained Aereo in a statement. "Last month, the appeals court affirmed that decision. The fact that CBS did not prevail in their efforts to enjoin Aereo in their existing federal lawsuit does not entitle them to a do-over in another jurisdiction. We are hopeful that any such efforts to commence duplicative lawsuits to try to seek a different outcome will be rejected by the courts."
Broadcasters are concerned that their current business model will be affected by an Aereo victory and they run the risk of losing retransmission fees paid by the cable companies. Network execs have even threatened to pull their content from free airwaves if Aereo is permitted to continue. CBS CEO Les Moonves, for example, recently said his network would consider going to cable if Aereo was not shut down.
However, Aereo claims it does not redistribute content. "The company uses the Internet to connect each user to a tiny TV antenna housed at their facilities and then allows them to control the antenna to watch over-the-air broadcasts," explains The Verge.