At its annual Zoomtopia event, Zoom announced the debut of end-to-end encryption (E2EE) for free accounts in four stages. The first phase, which launches next week, will be a 30-day technical preview to gather feedback. Chief executive Eric Yuan stated the company will improve its integration of "office chatroom products" from Slack Technologies and Microsoft and also introduced its Zapps platform that allows users to bring third-party apps into video calls and a new integrated platform for classes and events.
VentureBeat reports that Zoom generated "significant controversy earlier this year when it revealed plans to make E2EE available only to those on a paid plan." With pushback from privacy advocates and others, the company was forced to "promise the functionality to all users." As part of the E2EE plan, users of the free plan "have to go through a one-time verification process, which may involve having to provide their mobile phone number."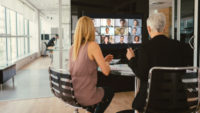 Zoom will build its E2EE on top of existing GCM encryption, "except rather than Zoom's servers managing the encryption key process, the meeting host generates the encryption keys and uses public key cryptography to distribute the keys to each participant."
The decryption keys will be "generated and stored locally on users' machines … [and] a little green shield log in the top-left tells users that the call is protected by E2EE." To use the encryption, hosts "must activate E2EE in their account settings and then opt-in to it for each meeting that they are on … [and] all participants must enable E2EE in their own Zoom app to join a call."
Breakout rooms, cloud recording, polling, live transcription, one-to-one chats and reactions will be disabled during Phase 1. Phase 2 is "tentatively roadmapped for 2021."
Bloomberg reports that Yuan stated, "chat is a very important functionality for our overall usage … the core priority is how to further improve the integration between chat, video and voice." He added that he doesn't see Microsoft as a "top competitor," but rather sees Zoom as a good partner for its messaging and file-sharing tools, which work well with Zoom's meeting, phone and webinar services.
"We really integrate very well with Slack, with Teams," Yuan said. "We give customers flexibility. We are picking a very open-minded approach. We are not saying we want to build our own chat to compete against others. I don't think we need that, because video and voice, that's our focus."
At Zoomtopia, the company updated its financial goals, "saying it is targeting a long-term adjusted operating margin of 25 percent of revenue, and a gross margin of 80 percent of revenue," whereby Zoom would "spend 10 percent to 12 percent of revenue on research and development and 30 percent to 35 percent on sales and marketing."
Related:
Zoom Beats Microsoft Teams, Google Meet With Game-Changing New Features, Forbes, 10/14/20
Zoom Will Start Letting People Host Online Events with Paid Admission, CNBC, 10/14/20