At the company's second virtual tech product reveal, Apple chief executive Tim Cook debuted four iPhone 12 models that are capable of connecting with 5G networks. Prices for the new phones begin at $699 for the least expensive 5.4-inch iPhone 12 Mini up to the $999 iPhone 12 Pro and $1,099 12 Pro Max. Oscar-winning cinematographer Emmanuel Lubezki made a short movie with the iPhone 12 Pro, which Apple touts is "the first and only device that enables you to capture, edit, watch, and share Dolby Vision video."
The Wall Street Journal reports that, at the event, Verizon Communications chief executive Hans Vestberg said that the "wait-and-see" for 5G is now over with the iPhone 12. Moor Insights & Strategy senior analyst Mark Vena noted that Apple has now validated the technology, although other manufacturers have already been selling 5G-enabled phones. "Apple almost provides like the Good Housekeeping Seal of Approval," he said. Skeptics, however, think most users will wait until there is a "must-have application or service" to make the move to 5G.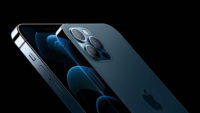 According to Morgan Stanley analyst Katy Huberty, Apple "could ship as many as 240 million iPhones this year, helped by customers who haven't upgraded in several years and by excitement for 5G." If so, that would break the 2015 record of 231 million devices sold.
The Verge reports that the 6.1-inch iPhone 12 Pro and 6.7-inch 12 Pro Max feature "a new squared-off design that's reminiscent of the iPhone 4" and that both phones are bigger than last year's counterparts. The Pro models are stainless steel and come in four colors (gray, stainless steel, gold, and a new blue) and also feature Apple's A14 Bionic chip, first debuted last month in the iPad Air.
It's the company's first chip to use a 5nm process, and "Apple says that both the new six-core CPU and the four-core GPU are the fastest ever, with performance … up to 50 percent faster than any other phone." The phones supports both sub-6GHz and mmWave 5G, which means it should work with all three major carriers' 5G networks.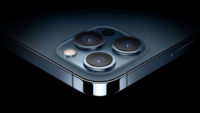 Exclusive to the iPhone 12 Pro is a LIDAR sensor, for "additional AR effects" as well as low-light photography. A new 12MP telephoto lens with 65mm focal length can "optically zoom in up to 2.5 times … [and] there's a new wide camera with an f/1.6 aperture and a new OIS system." Apple ProRAW will also be available later this year across all four cameras. The 12 Pro phones will also be able to shoot in HDR and support Dolby Vision HDR.
IndieWire reports that, during its iPhone event, Apple premiered the short film shot by Lubezki, using the iPhone 12 Pro, which features "a collection of gorgeous, sweeping images." "When I started shooting movies, you had to rent a very expensive camera, buy film stock, pay for developing, special equipment for editing," Lubezki says. "Now, you can really go out with one of these devices and make a movie. I think the next great cinematographer or the next great film director is already making movies with one of these devices."
Related:
Here's Everything Apple Announced at Its iPhone 12 Event, Engadget, 10/13/20
Apple Bundles Free Arcade and TV+ Access with New Device Purchases, Engadget, 10/13/20
The iPhone 12 Pro Max Could Be Apple's Biggest Camera Jump in Years, The Verge, 10/14/20
Apple iPhone 12 With 5G Could Help Filmmaking "Change Dramatically", The Hollywood Reporter, 10/13/20
Apple Brings HDR Video Recording to the iPhone, Engadget, 10/13/20
The iPhone 12 Pro and the Pro Max vs. the Competition: Heavy-Hitting Cameras, Engadget, 10/13/20
Verizon Is Rolling Out Its 'Nationwide' 5G Network with iPhone 12, Engadget, 10/13/20
Snapchat Among First to Leverage iPhone 12 Pro's LiDAR Scanner for AR, TechCrunch, 10/13/20
Apple's HomePod Mini Is a Smaller, Spherical Smart Speaker, Engadget, 10/13/20
Topics:
5G
,
A14 Bionic Chip
,
Apple
,
Apple ProRAW
,
Arcade
,
Augmented Reality
,
Camera
,
CPU
,
Dolby Vision
,
Emmanuel Lubezki
,
GPU
,
Hans Vestberg
,
HDR
,
iPad Air
,
iPhone
,
iPhone 12 Mini
,
iPhone 12 Pro
,
iPhone 12 Pro Max
,
iPhone 4
,
Katy Huberty
,
Lidar
,
Mark Vena
,
mmWave
,
Mobile
,
Moor Insights & Strategy
,
Morgan Stanley
,
Tim Cook
,
Verizon Communications