Zoom founder and chief executive Eric Yuan said his company will assist the FBI and law enforcement by providing end-to-end encryption only to paying customers, but not for the majority of those who use its free version, "in case some people use Zoom for a bad purpose." During widespread U.S. protests over the death of George Floyd, Yuan's comments did not go over well, with some users threatening to switch to rival services. But his words were misinterpreted and taken out of context. "We plan to provide end-to-end encryption to users for whom we can verify identity, thereby limiting harm to vulnerable groups," explained Yuan.
"I wanted to clarify that Zoom does not monitor meeting content," he noted. "We do not have backdoors where participants, including Zoom employees or law enforcement, can enter meetings without being visible to others. None of this will change." He added that Zoom only has free users' email addresses, which isn't "enough information to verify people's identities."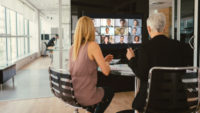 Bloomberg reports that, by Wednesday's close, Zoom's stock "jumped 7.6 percent to a record $223.87 … and has more than tripled this year."
Before his comments, Yuan "publicly shared a letter he wrote to employees about the grievances that spurred the recent demonstrations … [and] during his Wednesday webinar, he echoed his support for the black community," adding that, "we will also assess how best to philanthropically contribute to support some of the external partners who are on the front lines tackling social and racial justice."
Vox reports that Yuan's tweet about working with law enforcement is "actually part of a safety initiative to protect users from images of child abuse, which the platform has been criticized for helping to spread." Bloomberg reporter Nico Grant's original tweet got 18,000+ retweets but "is a bit misleading and takes Yuan's statement out of context." Grant stated that he "ran out of space" to clarify that he was referring to end-to-end encryption. His follow-up tweet has been retweeted three times.
During these times of political unrest, "it's understandable why people would automatically equivocate 'work together with the FBI' with 'allow the government to surveil any activity it deems potentially unlawful' … [but] the truth is a bit more complicated," notes Vox. Instead, it "shows that what Zoom says are its two biggest focuses — user safety and privacy — aren't always one and the same."
Currently, Zoom's free and paid calls are encrypted, but, with end-to-end encryption, "neither Zoom nor law enforcement would have a way to intercept and interpret messages." Zoom only wants to offer this level of encryption to "business and enterprise customers whose identities the company can confirm."