The three-story, 6,000-seat YouTube Theater will open mid-summer in Inglewood, California near SoFi Stadium and American Airlines Plaza, to host live entertainment and YouTube award shows, creator events, eSports competitions, concerts and more. The theater is the fruit of a 10-year naming rights agreement struck between Hollywood Park, a development backed by Los Angeles Rams owner Stan Kroenke, and Google's YouTube. Financial terms were not disclosed. YouTube Theater will offer the company another way to build brand awareness.
The Los Angeles Times reports that the 227,000-square-foot YouTube Theater also includes production soundstages, and "a large exterior video screen that will feature content by YouTube creators and artists." The 300-acre Hollywood Park complex has "a multiyear booking agreement with Beverly Hills-based concert promoter and operator Live Nation."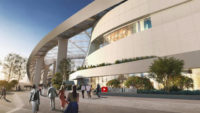 Musical performers Pitbull, Marina and duo Black Pumas are slated to perform in 2021 or 2022. The first YouTube Theater concert is scheduled for September 4 with Mexican band Caifanes. Sold-out Live Nation concerts at the new venue include "a September 11 performance with family band Los Ángeles Azules; and March 12 and 13 shows with singer-songwriter Louis Tomlinson, known as a former member of boy band One Direction."
SoFi Stadium and Hollywood Park managing director Jason Gannon said that Kroenke, "envisioned an intimate, world-class venue that exemplified three core aspects: technology, creativity, and entertainment." "We cannot imagine a better partner to help us bring this vision to life than YouTube," he said.
YouTube vice president of brand marketing Angela Courtin stated that the YouTube Theater will combine "physical, 'in real life' events that bring creators and fans together, while simultaneously sharing that same event experience with our two billion global monthly users through live streams and VOD content."
Engadget reports that all the events at the YouTube Theater will create "fodder for live-streamed and on-demand content that users will be able to watch on YouTube proper." Hollywood Park, "formerly a historic racetrack frequented by Hollywood royalty," is now "being converted into a massive mixed-use development, home to almost 3,000 apartments, a sports stadium, a 300-room hotel and an 890,000-square-foot retail area."
The theater's "massive exterior screen" will allow visitors to "mirror themselves on and view clips through … [and] Google could also use it to highlight the same products it sells at its newly opened debut retail store in New York City." It notes that Netflix "owns New York's iconic Paris movie theater and has previously organized live comedy events … [while] Disney and the rest of Hollywood … regularly turn up to Comic-Con to promote their biggest blockbusters. "
Topics:
American Airlines Plaza
,
Angela Courtin
,
Black Pumas
,
Caifanes
,
Comic-Con
,
Concerts
,
Disney
,
eSports
,
Google
,
Hollywood Park
,
Jason Gannon
,
Live Nation
,
Los Ángeles Azules
,
Los Angeles Rams
,
Louis Tomlinson
,
Marina
,
Music
,
Netflix
,
One Direction
,
Pitbull
,
SoFi Stadium
,
Stan Kroenke
,
Video
,
VOD
,
YouTube
,
YouTube Theater