The National Music Publishers Association (NMPA) has filed a lawsuit against Fullscreen, a multi-channel network of popular YouTube channels. The association claims that the company is using unlicensed music in its videos. Fullscreen serves more than 10,000 YouTube channels, including channels owned by Nintendo, Pepsi and Lexus. At the same time, the NMPA is forming an agreement in principle with Maker Studios for music licensing.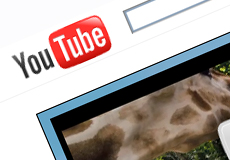 Fullscreen "directly profits from advertising revenue generated by unlicensed music videos on their channels, but does not compensate songwriters or publishers," according to the NMPA. Some of the content that Fullscreen helps distribute and monetize are unlicensed cover songs.
"YouTube agreed to pay so that creators could freely stick songs into their clips, and that's one of the reasons YouTube is now one of the most popular sources of music online," explains The Verge. "But these rights apparently don't extend to the growing number of Multi-Channel Networks (MCN) — services that assist YouTube video-makers with such things as promotion, partner management, and digital rights management."
"Fullscreen's success and growth as a digital business is attributable in large part to the prevalence and popularity of its unlicensed music videos," said David Israelite, NMPA's CEO.
As NMPA announced its lawsuit, it also reached an agreement in principle with Maker Studios, another large MCN, reports TechCrunch. Once the deal is finalized, it will allow music publishers to get paid for past licensing infringement by Maker partners, and ensure licensing into the future.
Related News:
Why YouTube Buffers: The Secret Deals that Make — and Break — Online Video, Ars Technica, 7/28/13
Future of Content: The Power of Video, Forbes, 7/31/13
Topics:
Channel
,
DRM
,
Fullscreen
,
Google
,
Law
,
Legal
,
Lexus
,
License
,
Licensing
,
Maker
,
Maker Studios
,
Media Companies
,
multi-channel
,
Multichannel
,
Music
,
Music Video
,
National Music Publishers Association
,
NBCUniversal
,
Network
,
Nintendo
,
NMPA
,
Online Video
,
Promotion
,
Studio
,
YouTube
,
YouTube Channels