At this week's Digital Content NewFronts event in New York, Yahoo announced a new slate of online comedies and lifestyle programs to be available this year. In addition to the original programming, Yahoo has partnered with WWE to create an online wrestling hub scheduled to launch this summer, and will feature select streaming content from Conde Nast Entertainment, ABC News and CNBC.
"Taking a page from Netflix's playbook, the firm announced its original comedy lineup will be released in a 'binge-viewing' style á la 'House of Cards' this fall, and added 'Tiny Commando,' 'We Need Help' and 'Losing Your Virginity with John Stamos' to its humor roster," reports Engadget. "Mayer and Co. also revealed a trio of lifestyle programs called 'Fashion Recipe,' 'Cinema & Spice' and 'Grill Girls,' which are headed online at some point later this year."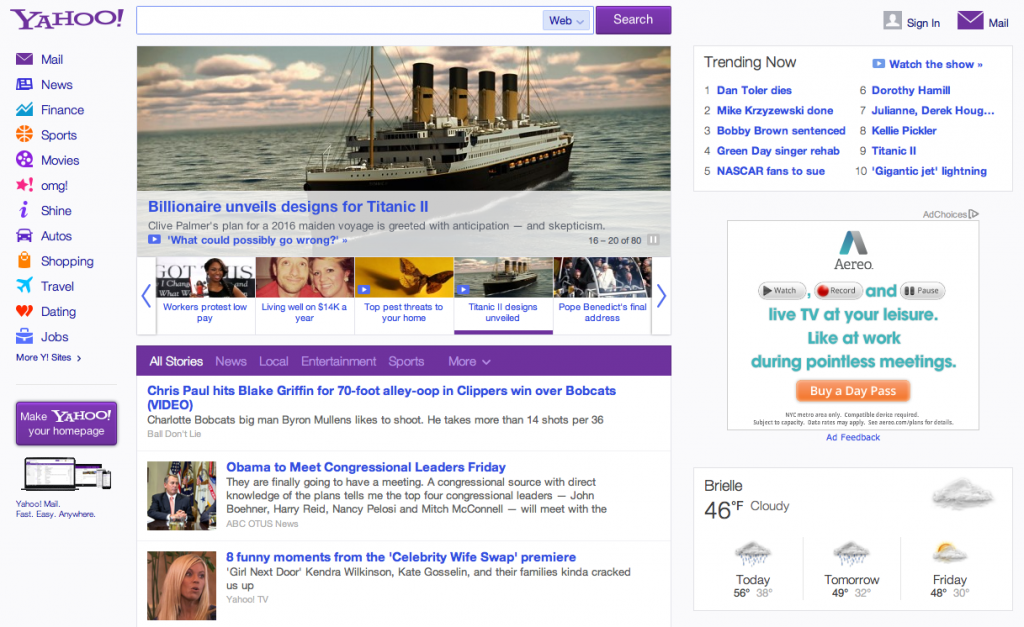 The WWE offerings "will include clips, a 30-minute 'Monday Night Raw' pre-show, two original weekly shows with 50 episodes per year, an archive of full historic matches and more," notes the post.
"In the last year, we have more than doubled the original video programming on Yahoo! to become one of the Web's largest content publishers," explained Erin McPherson, Yahoo! VP and head of video. "The new shows and partnerships we're announcing at Yahoo's NewFront demonstrate how we are building scale, reaching more targeted audiences, and innovating with content."
The announcements come one week after Yahoo secured exclusive rights to stream clips of NBC's "Saturday Night Live."
Topics:
ABC
,
CNBC
,
Comedy
,
Conde Nast
,
Erin McPherson
,
John Stamos
,
Lifestyle
,
NBC
,
Netflix
,
New York
,
NewFronts
,
NYC
,
Original Program
,
Programming
,
Stream
,
Streaming
,
Television
,
TV
,
Video
,
Wrestling
,
WWE
,
Yahoo