In a deal with ABC and the Academy of Motion Pictures Arts & Sciences, Comcast is delivering a package of 72 "Best of Oscars" moments from previous Academy Awards broadcasts via its VOD platform to X1 subscribers. The goal, for Comcast, is to drive up VOD rentals and purchases of Oscar-nominated features. For ABC, which is offering content gratis, the hope is that Comcast's Oscars content will boost awareness and viewership of the 88th annual Academy Awards on Sunday, February 28.
Variety reports that Comcast is also offering every Oscars "Best Picture" winning film from the past 25 years, for rental or purchase. The cablecaster, which is promoting X1's enhanced voice-search features for the Oscars material, is also making about 20 movies that have received 2016 Oscar nominations available for pre-order, rental or purchase, including "Bridge of Spies," "The Revenant," "The Martian," "Mad Max: Fury Road," "Sicario," "Room," "Spotlight," "Straight Outta Compton," "Steve Jobs," "The Big Short" and "The Hateful Eight."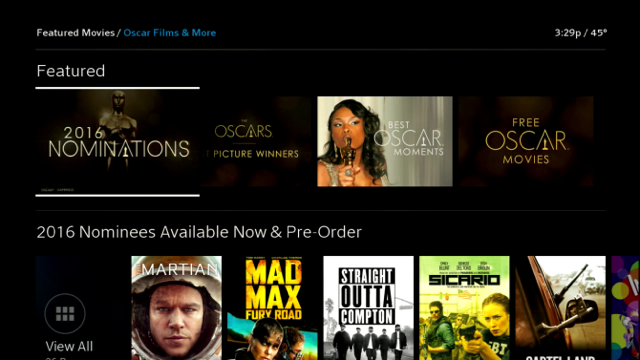 "We're focused on the overall VOD experience… but I expect if we do this well, we will pick up additional transactions," said Comcast general manager of movies, PPV and commerce Daniel Spinosa. "The Oscars is one of the largest TV-viewing events of the year, so it's a great thing to work with ABC and the Academy on this." As of the end of 2015, about 30 percent of Comcast's 22.3 million video subscribers had X1.
During the Academy Awards telecast, Comcast plans to run ads in the local and regional markets where it operates. Highlights from the 2016 Oscars — including red carpet interviews, speeches and musical numbers — will be added to its "Best of Oscars" VOD offering. Comcast X1 customers will also be able to watch a complete on-demand telecast of the Oscars the day after it airs through March 2. Most of the historical Oscars footage, with highlights from the 2016 telecast, will be available on demand through March 13.
Other Oscar-related content, such as ABC's live webcast of the "Oscars Backstage" show, will be available on Xfinity.com and the Xfinity TV Go apps as well to X1 subscribers. Among the 72 "Best of Oscars" moments on VOD are Lupita Nyong'o's speech after winning best supporting actress in 2014; Martin Scorsese's best director win in 2007; and Sally Field's 1985 acceptance speech for best actress.
Topics:
ABC
,
Academy Award
,
Advertising
,
AMPAS
,
App
,
Bridge of Spies
,
Comcast
,
Daniel Spinosa
,
Lupita Nyong'o
,
Mad Max: Fury Road
,
Martin Scorsese
,
Movie
,
Oscar
,
Oscars Backstage
,
PPV
,
Room
,
Sally Field
,
Sicario
,
Spotlight
,
Steve Jobs
,
Straight Outta Compton
,
The Big Short
,
The Hateful Eight
,
The Martian
,
The Revenant
,
VOD
,
X1
,
Xfinity TV Go
,
Xfinity.com