Waymo began testing its first autonomous vehicles on public roads on October 19 in the Phoenix area. The Chrysler Pacifica minivans still had employees in the car, but in the backseat, where they could push a button to pull over the vehicle. Waymo, whose vision is to deploy its self-driving vehicles via a taxi service, plans to let passengers ride in the back, possibly without an employee, in the coming months. It began its work eight years ago, followed by similar efforts by General Motors, Ford Motor, Apple and Uber.
The Wall Street Journal notes that all of Waymo's rivals have been conducting tests on public roads, "but with people behind the wheel ready to take control in case the cars' computer gets stuck or goes haywire."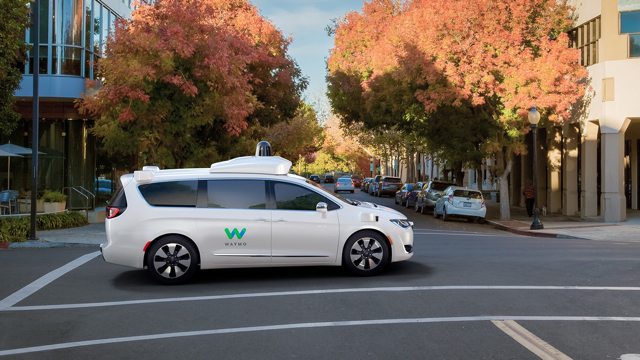 Waymo chief executive John Krafcik revealed that, "in the next few months" members of the public will get rides in the fully self-driving vehicles first through the company's Early Rider program." Similar to ride-hailing services, "users will summon the vehicle through a smartphone app."
Part of Waymo's vision is that cars will be "more often shared than owned and are designed differently than vehicles driven by people." "A small fleet of fully self-driving cars could serve an entire community," said Krafcik.
Waymo's vehicles have traveled more than 3.5 million miles on public roads, and only one has been reported to cause a crash. According to the Boston Consulting Group, "one-quarter of miles driven in the U.S. by 2030 could be through shared, self-driving vehicles," although the technology "still faces a series of obstacles to widespread adoption" and "regulations vary widely by state and are murky at the federal level."
The New York Times reports that, Waymo "did not say whether it was testing the driverless cars in environments considered challenging for autonomous vehicles, like bridges or tunnels, or more difficult conditions, like driving at night or in rain and snow." The company has also included "backup systems like a secondary computer to take over if the main computer fails."
When passengers begin to ride in the vehicles, "they will be able to contact Waymo support staff with a button inside the car." The vehicles are also "programmed to respond appropriately, including pulling off the road on their own" if they are involved in a crash.
Regulations are state-by-state, but in California, where Waymo is headquartered, any autonomous car is required to have a "safety driver sitting in the front." In a report for California's Department of Motor Vehicles, Waymo divulged that its cars deactivated autonomous mode, forcing a human driver to take over, "once every 5,000 miles the cars drove in 2016, compared with once every 1,250 miles in 2015."
Consumer Watchdog believes this proves that the cars are "not ready to drive without any human intervention." "It's the wrong approach when you're dealing with self-driving cars," said John Simpson, a director at Consumer Watchdog. "When things go wrong with a robot car, you kill people."
Topics:
Apple
,
Apps
,
Automobiles
,
Automotive
,
Autonomous Vehicles
,
Boston Consulting Group
,
California
,
Chrysler Pacifica
,
Consumer Watchdog
,
DMV
,
Driverless Car
,
Ford Motor Company
,
General Motors
,
John Krafcik
,
John Simpson
,
Phoenix
,
Ride Hailing
,
Self-Driving Cars
,
Smartphone App
,
Taxi
,
Uber
,
Waymo