The Tokyo Game Show, held by the Computer Entertainment Supplier's Association and celebrating its 20th anniversary, featured 614 companies and more than 1,500 game software titles. Virtual reality received a great deal of attention this year, showcased in a dedicated area. Many experts believe that, although VR has many real-world uses, it will first find popularity in video games. Currently, a lack of content as well as bulky, expensive headsets and nascent technology are some of the obstacles to its uptake.
Phys.org quotes Sony Interactive Entertainment director Yasuo Takahashi that VR's debut this year is "helping revive an industry that has languished with the advent of smartphones."
"Up to now games were played on a TV set," he said. "With VR, players can enter the worlds portrayed in games. It's a totally new experience." Next month, Sony will begin selling its PlayStation VR headset for about $400, compared to $600 for the Oculus Rift and $800 for HTC Vive.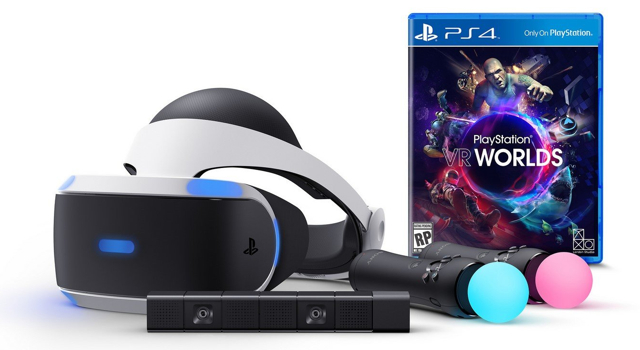 CNBC notes that, according to IDC, "about 43 million PS4 consoles have been sold so far." "Sony will be the first company to popularize VR," said Moor Insights & Strategy president/principal analyst Patrick Moorhead, who adds that, "the Oculus Rift was hard to manage, while the Samsung Gear relied on a smartphone, which isn't the best platform for VR's high resolution."
The PlayStation VR can also be used "to show live-theater performances, tours of historical sites and music videos," said Sony Japan's Atsushi Morita. Nomura analysts report that, "the announcement of PS VR content by Sony Music Entertainment, such as the 'Don't be Afraid' video and 'Anywhere' VR, will likely attract attention as examples of Sony leveraging its strengths in video and music as well as just games."
This is important because lack of content is the chief challenge for VR going forward, said 635 industry players surveyed by legal company Perkins Cole and Upload.
Sony isn't the only company taking the plunge. Enhance founder/president Tetsuya Mizuguchi, for example, thinks VR is ideal for his game "Rez Infinite," which initially debuted in 2001 for Sega Dreamcast. "This is about a new way of storytelling," said Mizuguchi, whose designers paid special attention to making sure the VR didn't provoke nausea. "VR can liberate one's experience from the film frame, which has existed over the 130 years of movies."
Also showing advancements in VR is HTC, with games such as "Kai-ri-Sei Million Arthur VR" by Square Enix, and accessories to "flesh out" its ecosystem. MSI, a Taiwanese firm, showed the VR One, a PC and headset system dubbed "the world's first-ever VR backpack," designed for use with the Vive, weighing under 8 pounds and capable of 1.5 hours of gameplay. Bandai, Capcom, Namco and Sega also unveiled new VR games.
Interact president Hisakazu Hirabayashi predicts that, because VR is so powerful, developers will avoid "potential risks." "VR is a fabulous technology, but it can be even used for torture," he said. "So game creators are still trying to play it safe."
Topics:
Atsushi Morita
,
Capcom
,
CESA
,
Consoles
,
Enhance
,
Gaming
,
Hisakazu Hirabayashi
,
HTC Vive
,
IDC
,
Interact
,
Japan
,
Moor Insights & Strategy
,
Movies
,
MSI
,
Music Videos
,
Oculus Rift
,
Patrick Moorhead
,
Perkins Cole
,
PlayStation VR
,
PS4
,
Samsung Gear
,
Sony
,
Square Enix
,
Tetsuya Mizuguchi
,
Tokyo Game Show
,
Upload
,
Video Games
,
Virtual Reality
,
VR Headsets
,
Yasuo Takahashi