Virtual and augmented reality tools have been around for at least 40 years. In 2014 the next generation of VR and AR hardware was being energetically developed, beta tested, and discussed by the niche VR community. It was also used to create small-scale experiences as part of the marketing campaigns for other entertainment assets. Expect 2015 to be the year when hardware, software, and content companies work towards consumer adoption of VR and AR resources and experiences.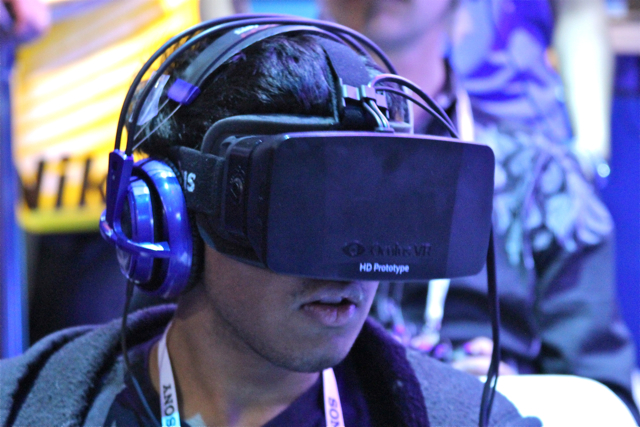 Oculus, with its Rift HMD (head-mounted display) technology, held the attention of the press and public for most of the year. Oculus was acquired by Facebook, and partnered with Samsung to develop a phone-based HMD, the Gear VR. Motion tracking hardware vendor Leap Motion developed a mount that added hand gesture recognition capabilities to the headset.
The Oculus Connect 2-day gathering in late September at Hollywood and Highland captured the attention of both the developer and the Hollywood community, and gave the Oculus senior management team a platform for building excitement among the developer community.
Not to be outdone, Google invested in Magic Leap, a company with an extensive portfolio of patents related to augmented reality. Magic Leap is still in stealth mode, but its prototype demos are rumored to be amazing.
Beyond those headline-grabbing companies, many other startups and established companies spent the year developing new self-contained HMDs (examples: Sony Morpheus, CastAR, Avegant Glyph, AntVR, VRelia, Fove), HMD frames into which you insert mobile devices (examples: Google Cardboard, Seebright, FOV2GO, Durovis), and related controllers and peripheral devices (examples: Sixense, Virtuix Omni, Control VR).
As for content, a number of VR experiences have been created for marketing purposes, including properties for the films "Into the Storm," "How to Train Your Dragon 2," and "The Hobbit." Jaunt, Vevo, and others have produced short films ("The Mission," "Black Mass") and concert experiences (Beck, Paul McCartney, Austin City Limits) to demonstrate the media's potential for live action experiences.
Looking globally, many individuals and groups have developed interesting VR experiences; such as Seattle's The Nightmare Machine, "the world's first VR haunted house." And many videogames have been adapted for use with VR headsets.
A challenge going forward is developing the language of VR. What audio and visual creation and editing techniques work, and how should they be used? How does VR storytelling differ from cinema and gaming? What are the strengths of live-action VR versus computer-generated VR? How do you bring other senses into play? The ETC is planning an event in early 2015 during which these questions and others will be discussed.
Where to find Virtual and Augmented Reality at CES:
Game Zone at the front end of South Hall 2
Oculus (#26002) — Crescent Bay HMD, Samsung Gear VR. Watch for the "Wild – The Experience" VR short with Reese Witherspoon.
ImmersiON-VRelia (#25212) — Wide field of view VR and AR glasses.
Virtuix Omni (#26008) — Omnidirectional treadmill.
3D Head (#25808) — Full body tracking and gameplay.
AntVR (#26311) — VR/AR HMD startup.
Occipital (#25405) — iPad-based object and room scanner for AR games.
Central Hall
Sony (#14200) — Expected to once again show its Morpheus HMD.
Samsung (#11906) — Samsung Gear VR with the Galaxy Note 4.
Tech West (Sands Convention Center)
Avegant (#74547) — Micromirror-based video headset.
Fove (#71374) — HMD with built-in eye-tracking.
Giroptic (#72070) — Consumer market 360 camera.
Panono GmbH (#74273) — Toss the spherical camera into air, and it takes a full sphere photo at highest point.
Remote Reality Corp. (#75621) — High resolution 360 camera for military use.
3DRudder ( #75667) — Feet-controlled 3D navigation and motion controller.
EyeTech Digital Systems (#72034) — Licensable eye tracking on a chip.
The Eye Tribe (#72040) — Eye-tracking software for camera-enabled CE devices.
Tobii (#71837) — Eye-tracking software for camera-enabled CE devices.
Ultrahaptics (#75619) — Ultrasound mid-air tactile feedback.
Seebright (#72474) —Phone-based AR HMD tech startup.
Westgate Hospitality Suites
Leap Motion (Suite 1265) —Hand-tracking motion-capture bar mounts onto the front of the Oculus Rift.
Novasentis (Suite 1965) — Manufacturer of thin flexible haptic actuators and sensors.
Lumus (Suite 335) — Israeli developer of VR and AR glasses.
Topics:
AntVR
,
Augmented Reality
,
Avegant Glyph
,
CastAR
,
Control VR
,
Durovis
,
Facebook
,
Fov2Go
,
FOVE
,
Gaming
,
Gear VR
,
Google
,
Google Cardboard
,
HMD
,
Jaunt
,
Leap Motion
,
Magic Leap
,
Movie
,
Oculus Rift
,
Samsung
,
Seebright
,
Sixense
,
Sony Morpheus
,
Vevo
,
Virtual Reality
,
Virtuix Omni
,
Vrelia