Last week, NAB and sponsor Grass Valley hosted a day of online sessions covering various "Production in a Pandemic" topics. ETC@USC's Erik Weaver moderated a compelling panel during which industry experts discussed the methods used to produce the short film "Ripple Effect," a live-action project testing the limits of virtual production. The production focused on how Previz, Techviz and Safetyviz can help limit crew and cast to create a safer work environment. Video of the panel — "In Harm's Way: Using Safetyviz to Mitigate Onset Liability" — is now available on the NAB Show site.
ETC selected filmmakers Hannah Bang, Margo Sawaya and Sabina Vajrača to receive the 2020 Innovative Technology Award for "The Ripple Effect." ETC leveraged virtual production, LED volume and game engine techniques during production, including visualizing COVID-19 safety narratives for production teams. During the recent NAB panel, executive producer Weaver and the panelists discussed techniques implemented during the film's production.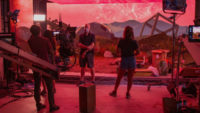 Panelists included Andrea Aniceto-Chavez of Cinecode, DigitalFilm Tree CEO Ramy Katrib, ASC Motion Imaging Technology Council's Greg Ciaccio, freelance creative and line producer Jamie McNeill, and Catherine Shin of the USC Chan Division of Occupational Science  and Occupational Therapy.
"Ripple Effect" is in cloud-based remote post-production now and should screen at festivals this fall. The team is also working on a white paper that will be published on the project website.
Related:
Studio-Backed Research Team Works on Test Film to Try COVID-19 Safety Protocols, The Hollywood Reporter, 9/3/20
ETC and Partners to Pilot Test Virtual Production Capabilities, ETCentric, 8/10/20
Topics:
Andrea Aniceto-Chavez
,
ASC
,
Catherine Shin
,
Cinecode
,
Coronavirus
,
COVID-19
,
DigitalFilm Tree
,
Erik Weaver
,
ETC@USC
,
Game Engine
,
Grass Valley
,
Greg Ciaccio
,
Hannah Bang
,
Jamie McNeill
,
Margo Sawaya
,
Movie
,
NAB
,
NAB Show
,
Previz
,
Production
,
Ramy Katrib
,
Ripple Effect
,
Sabina Vajrača
,
Safetyviz
,
Techviz
,
TV Show
,
USC
,
Video
,
Virtual Production