On the Las Vegas strip, The LINQ Hotel & Casino just opened up six virtual reality bays operated by VR startup Survios. Surrounded by glass walls, the bays are set up with comfortable couches, big screen TVs, Xbox Ones and Oculus Go VR headsets. They offer visitors access to VR games including "Creed," "Raw Data," and, soon, "The Walking Dead: Onslaught." Guests can visit a bar with a wrap-around touchscreen to play casual social games, an AR version of "Rock Paper Scissors" and watch the goings-on inside the VR bays.
Variety reports, "these VR stations are designed to draw a crowd, much in the same way a craps table does on your typical casino floor." According to Caesars Entertainment EVP Christian Stuart, the company began working on the VR space about 18 months ago, "determined that we really needed to innovate the casino environment, and go after people that are digital in nature," he said.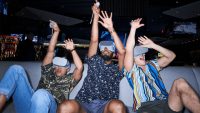 The MGM was one of the first casinos to gravitate to VR, working with VR startup Zero Latency in 2017 to open up a "free-roam VR arena." MGM Grand vice president of retail operations Matt Pina said that it is "outperforming our initial expectations."
He noted that the "key to the success has been to frequently update the games offered in the space." In this location, guests can try out four different free-roam games, each of which can accommodate up to eight players.
At The Venetian's Grand Canal Shoppes, Disney-backed The VOID offers more story-driven experiences, including "Star Wars: Secrets of the Empire," "Ralph Breaks VR" and "Ghostbusters: Dimension."
At Bally's, Russian-based VR startup PlatformaVR opened its own free-roam VR locale. Later this year, the Bay Area-based Nomadic will open its VR experience at the Area 15 entertainment complex.
Las Vegas, with its huge tourism base, is a natural location for VR experiences, although they compete with gambling, shows and many themed attractions. But Nomadic chief executive Doug Griffin pointed out that VR combines adult and kid-friendly content, "a better balance for families."
PlatformaVR chief executive Ilya Kuzyuk explained that "people still aren't very familiar with VR … [and therefore] one needs to position VR attraction as experience, promote games itself rather than VR technology." Griffin encouraged his fellow VR operators to consider the "cultural nuances" of Vegas' many international tourists and to consider translating the experiences into popular languages.
In other words, VR in Vegas is a work in progress. "This is, for us, an innovation center, it's a lab if you will," said Stuart. "We're trialing things here. And as we see success, we'll take that technology to the rest of our facilities."
Topics:
Area 15
,
Augmented Reality
,
Bally's
,
Caesars Entertainment
,
Casino
,
Christian Stuart
,
Disney
,
Doug Griffin
,
Free-Roam VR
,
Gaming
,
Ilya Kuzyuk
,
Las Vegas
,
Matt Pina
,
MGM Grand
,
Microsoft Xbox One
,
Nomadic
,
Oculus Go
,
PlatformaVR
,
Survios
,
The LINQ
,
The Venetian
,
The VOID
,
Video Game
,
Virtual Reality
,
VR Headset
,
Zero Latency