Walmart is leveraging computer vision tech by Ireland-based Everseen and several other companies in more than 1,000 of its stores to more closely monitor checkouts. The surveillance program is internally referred to as Missed Scan Detection, and uses AI-powered cameras to identify and correct problems such as errors, fraud and theft during the checkout scanning process at self-checkout registers and those run by cashiers. The National Retail Federation notes that U.S. retailers lost an estimated $47 billion in 2017 to such problems.
"When a potential issue arises, such as an item moving past a checkout scanner without getting scanned, the technology notifies checkout attendants so they can intervene," reports Business Insider. "The program is designed to reduce shrinkage, which is the term retailers use to define losses due to theft, scanning errors, fraud, and other causes."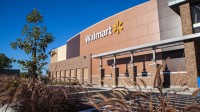 "Walmart is making a true investment to ensure the safety of our customers and associates," explained Walmart spokeswoman Dr. LeMia Jenkins. "Over the last three years, the company has invested over half a billion dollars in an effort to prevent, reduce and deter crime in our stores and parking lots. We are continuously investing in people, programs and technology to keep our stores and communities safe."
According to Jenkins, Walmart began its surveillance program two years ago and the stores where it has been deployed have experienced a decline in shrinkage.
Everseen — headquartered in Cork, Ireland with facilities in Romania, Serbia and New York — is one company providing tech for Walmart's program. The company explains it uses "artificial intelligence, computer vision systems and big data" to "detect abnormal activity and other threats."
Everseen founder and CEO Alan O'Herlihy said the company's technology is used by 10 of the world's top retailers, and most of the checkout problems are accidental. "People make mistakes," he said. "In terms of shrinkage, or loss, that's the main source."