Valve plans to release the first of its Steam Machines, a hybrid between PC-based and console gaming, to consumers on November 10th. The Linux-based device will be produced by Alienware, and combines the graphical capabilities of a traditional desktop PC with the usability of a home console. Coupled with the Steam Machine will be a new gamepad featuring two haptic touchpads that Valve claims will offer the precision of a mouse and keyboard control scheme. It will launch in three models ranging from $499 to $749.
First announced over two years ago, the Steam Machine represents Valve's effort to expand PC gaming into the living room. The Steam library includes over 6,000 titles, the majority of which are incompatible with traditional consoles. Because the device runs on a Linux-based platform and is comprised of hardware found in a traditional PC, the Steam Machine will natively support many games that have so far been unavailable to console gamers.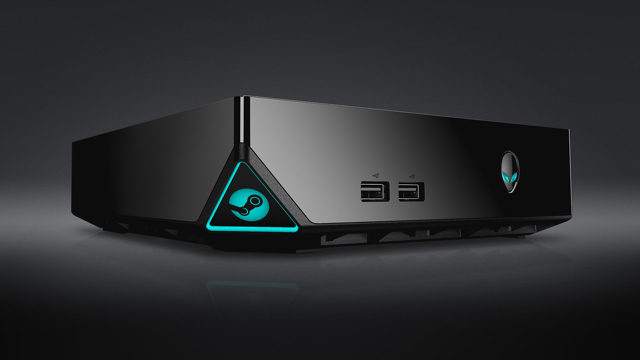 At launch, 1,500 games will be supported, a number that will rise as Valve improves and patches the operating system. Early tests indicate that the high-end Alienware Steam Machine is capable of playing most games at full HD resolution with acceptable frame rates and most graphical settings set between medium and high.
The device runs a modified version of Linux called SteamOS. It gives players access to games purchased on Steam, the Steam community, a streaming service and the Steam store.
If the player has a desktop PC, the Steam Box is capable of live streaming games from that computer to the living room TV, theoretically giving players access to all games in the Steam library.
Two haptic touchpads replace what would be joysticks on a traditional gamepad, and two unconventional paddle buttons on the back of the controller provide an array of control options. Each button is configurable within a given game, allowing players to fully customize their control schemes. Early reports suggest that the learning curve is high, but that the controller ultimately provides a pleasurable experience.
Related:
The Alienware Steam Machine: Finally, a Gaming PC for the Living Room, Engadget, 10/15/15
Steam Machine: Is This the Future of Living Room Gaming?, The Guardian, 10/20/15
Alienware Steam Machine: A Smaller Game Library Than Windows, But a Controller with Big Potential, CNET, 10/15/15
Topics:
1080p
,
Alienware
,
Dell
,
Desktop PC
,
Full HD
,
Game Console
,
Gamepad
,
Gamers
,
Gaming
,
Haptic
,
Hardware
,
Intel Core Processors
,
Joysticks
,
Keyboard
,
Linux
,
Mouse
,
Nvidia GeForce
,
Operating System
,
Paddle Buttons
,
PC Games
,
Resolution
,
Steam Box
,
Steam Machine
,
SteamOS
,
Touchpad
,
Valve
,
Windows