USA Today has launched a program called Social Media Tuesdays, in which staff members are expected to act as if social media is the only means of receiving articles. The idea behind the development is to get the employees to think as their readers think. USA Today has increased monthly mobile readership 48 percent since last year, to 25.5 million. Newspapers are hoping online and mobile offerings will make up for the decrease in traditional print readership.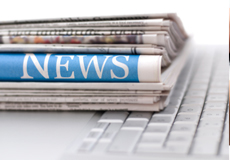 "But even with all the digital innovation at USA Today and other newspapers, the growth in online readers and digital advertising revenues are still not making up for the sagging fortunes of their core newspaper product," reports The New York Times.
USA Today continues to decide whether or not it will charge readers for content, while publications including The New York Times and The Wall Street Journal have already put up paywalls.
Journalists at USA Today are able to track viewership of their articles, with an electronic display in their newsroom ranking overall top performers. However, those that do not perform well are not penalized.
It has now become imperative for journalists to be skilled at promoting their online publications.
"In addition to Social Media Tuesdays, they run informal contests to motivate the newsroom staff of 430," says NYT. "Competitions have included who can create the most viral headline or add the most new Twitter followers in a given time."
Topics:
Advertising
,
Employees
,
Facebook
,
Fortunes
,
Innovation
,
Journalists
,
Marketing
,
Mobile
,
Newspapers
,
Newsroom
,
Online
,
Paywall
,
Print
,
Promotion
,
Publication
,
Reddit
,
Social Media
,
Social Media Tuesdays
,
Tweet
,
Twitter
,
USA Today
,
Viewership
,
Writer